EPIC East Coast Trans Labrador Adventure

 8,400 kms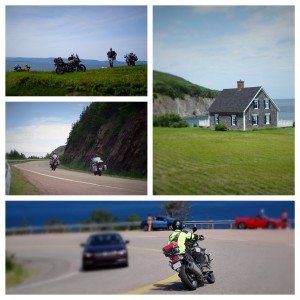 Over 18 days in July 2015, I rode 8,400 km with my good travelling buddies Michael Fritz (2014 Suzuki V-Strom DL650) and Jeff Luttmer (2012 Yamaha Super Tenere) on an Epic East Coast Trans Labrador Adventure. We began our journey in Ontario and before we were done we had visited Quebec, New Brunswick, Nova Scotia , Prince Edward Island, and Newfoundland & Labrador. We travelled as far east as North America goes. We soaked in the beauty of the Cabot Trail. And, we were one of the last groups to brave the Trans Labrador Highway while over 600 kms of it are still gravel.
The Maritimes offer some of the most spectacular scenery and hospitality that Canada has to offer. While the asphalt is spectacular, the opportunities for an Adventure Rider to go off-road are endless. And there is a range of technical challenge for every skill level of rider. While it would be impossible to narrow down a favourite portion of the trip, Cape Breton's Cabot Trail does stand out for the majesty of the vistas and the off-road trail options. We had a fantastic stay at the Cornerstone Motel in Cheticamp right at the entrance to the Cape Breton Highlands National Park. The Motel is motorcycle friendly as it is owned by a couple who are long-time CMC members.
If you are interested in riding Canada's East Coast, I hope you will find these posts helpful. Feel free to comment and I will do my best to reply within a few days. Or, you can reach out to me via my Contact page with any questions. You're also invited to follow me or share my posts on Facebook or any of the other social media links at the bottom of each page and post.