Meet theshnizzle (btw, I packed too much!)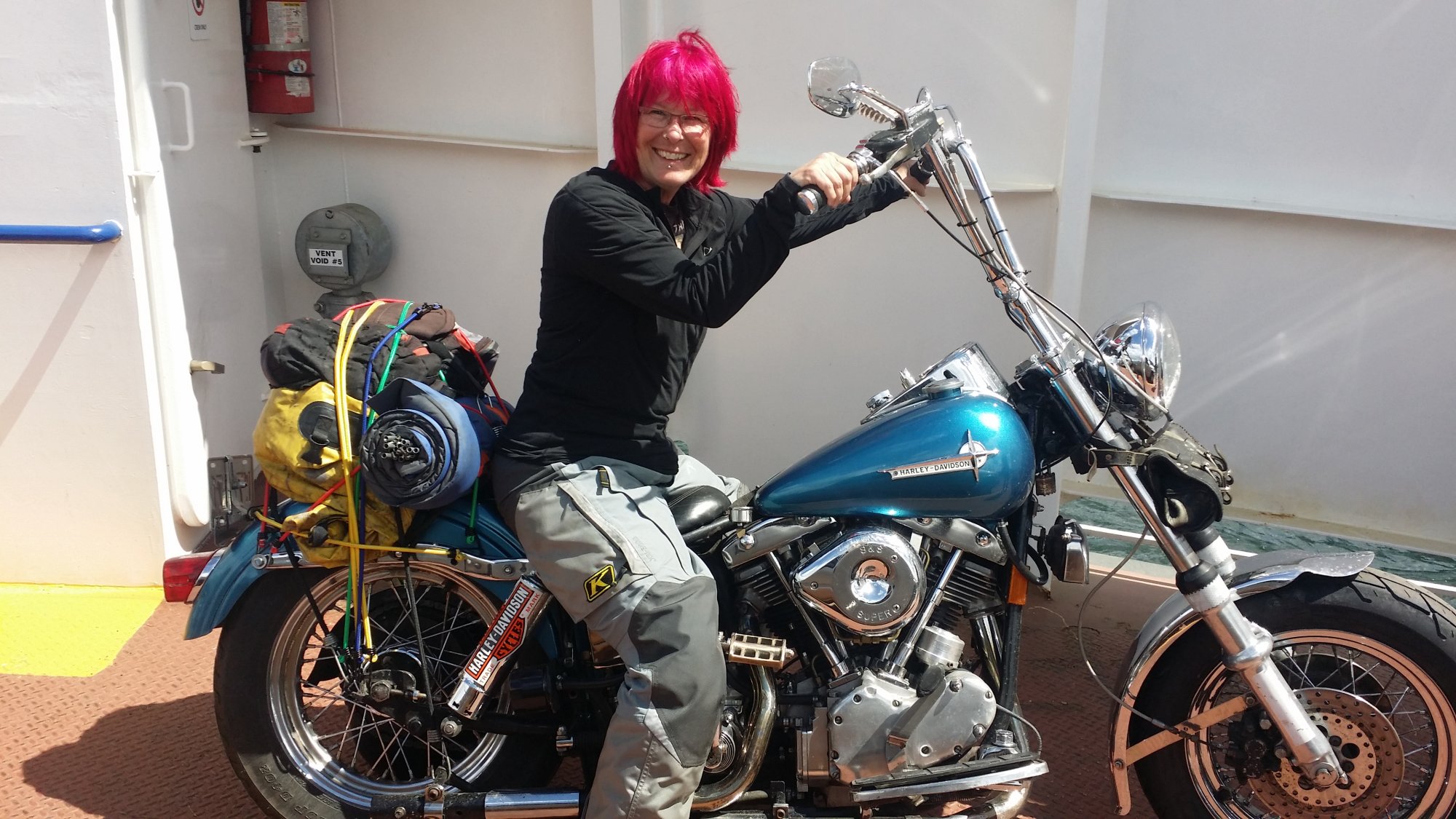 June 5, 2017
375 kilometres
You know, it doesn't matter how well I sleep when camping, a hotel room always feels heavenly.
Lorie and I both woke feeling refreshed and headed down to the 'free' breakfast, enjoying coffee, yogurt and cereal as Lorie pulled off an amazing chipmunk-like routine of gathering staples like muffins and bananas to enjoy on the road.
I'll tell you, I could learn a hell of a lot from this woman about being a frugal traveller 🙂
This looks like as good a time as any to introduce you to Lorie, aka – theshnizzle
Lorie is somewhat famous on the adventure rider forums for riding a 2006 Limited Edition White Suzuki Hyabusa from Peterborough, Ontario to Tok Alaska and then across the Top of The World highway to Dawson City in 2012.
Lorie has owned in the neighbourhood of 15 bikes since she started riding in the mid-80's – including 3 Hyabusa's and a Suzuki RG 500 Walter Wolfe Edition.
Lorie loves to hear guys say just about anything about 'girls who ride' or 'chicks who ride' because she pretty much smashes the stereotypes, riding 1000 kilometre days on a pretty regular basis.
One of the reasons that Lorie tends to ride solo is because 'the boys just can't hang with me.'
Originally from the West Island, Lorie now hails from the Peterborough, Ontario area and continues to spend she as much time in saddle as she can.
In her words, "as the mother of 5 grown kids, I deserve a little me time."
I got a load of laundry on after breakfast, and by the time it was done Lorie was packed and ready to roll. She wanted to head to Walmart to restock her groceries (with whatever was NOT available at the breakfast bar – milk, I think) and I needed to go to Canadian Tire to get a new low-beam headlight bulb for Big Ethel. It seems that she has a propensity for burning low-beams while I am in the middle of an adventure: Port Aux Basques during the East Coast Adventure, Barry's Bay during the Yobo's Fall Ride, and now here, on my way into the remote regions of Canada.
Oh well – it never really gets fully dark here – at least not before I'm off the road, anyway.
I also wanted to stop at the local naturopathic pharmacy to look into a homeopathic arthritis supplement for my hips. The pain was becoming increasingly unbearable and making it really tough to spend more than a couple of hours in the saddle at a time.
And, I have to admit now in the face of reality – I had to mail some gear home. Yes, I admit it, I packed too much (see my packing post).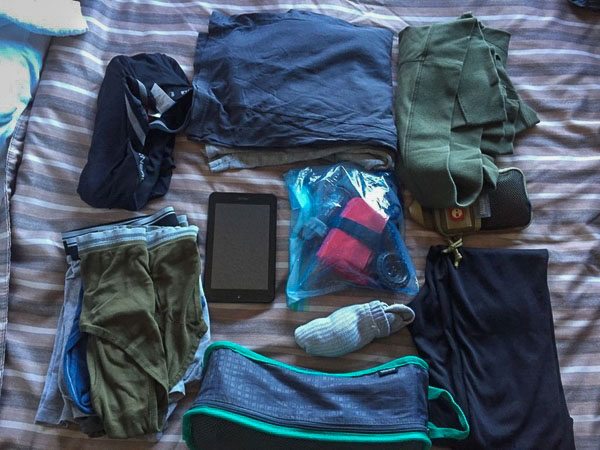 My tablet (a 5 year old Acer that was more aggravating than useful), 2 T-shirts, 1 long sleeved thermal shirt, 1 sweat shirt, 4 pair of underwear, my MSR Gravity filtration system, my Joey camp chair, 1 pair of socks and a small miscellaneous tool/safety kit.
All packed into a perfectly sized box provided by the lovely housekeeper who wished me a wonderful day each time that I passed her.
I hauled this box off to the post office and sent it away, my load now lighter and my saddle bags much roomier.
Lorie and I joined up at the Walmart and headed out of Prince George (have I mentioned how clean this small city is?). I didn't see a single piece of garbage on the ground anywhere – it was really quite something) and off we went, heading further west on the Yellowhead highway.
The riding was beautiful and the scenery continued to take me aback, filling me with a sense of wonder.
It was not a long day. We stopped in Smithers, BC to have a bite to eat and get gas, and decided that since it was already 4:00pm we should just call it a day. Lorie suggested the Municipal campground – Riverside Park – and her suggestion could not have been better.
Of all of the camping that I have done so far this trip, Riverside Park Campground was by far the nicest spot. For $20 per tent you get a large site, free firewood, WiFi, really well appointed and large showers with steaming hot water, a river flowing through the park, and a view that was as nice as any we had had yet. I strongly recommend this park to anyone who is camping their way through the area. If anyone is going camping by themselves then solo camping is great and can be incredibly fun here if they are looking to explore the outdoors alone.
We were able to meet some happy-go-lucky campers over in the park. One of them was talking about how he got into an accident sometime back and totalled his campervan but, fortunately for him, he survived with just minor injuries. Thankfully, he was enrolled in a New-for-old cover plan so he was camping again after a few weeks.
We met a couple of young lads, Jason and Rakesh, at the Petro Canada while we were getting fuel. These 2 guys – in their mid-twenties, had just graduated med-school and were celebrating by riding up to Alaska on their motorcycles. Pretty cool, right?
Yeah, did I mention the bikes were Honda 800 Interceptors!?!
Not exactly long-distance touring bikes! But these guys were super-excited for the adventure that lay ahead of them. As was I, for them. It was strange – I had never met these two young lads before, and yet I felt unexplainably proud of both of them.
Jason and Rakesh, I wish you both safe travels, a world of adventure, and am very pleased to have met you both. Keep that gleam in your eyes, guys.
And that brought day 9 to a wrap. Tomorrow, we again split up and head off on our own . . .
I always enjoy replying to comments. Please feel free to scroll down and post a comment. I'll reply as soon as I can.
Up Next . . .
We won't send spam or sell your email address