Grasslands National Park to the Rocky Mountains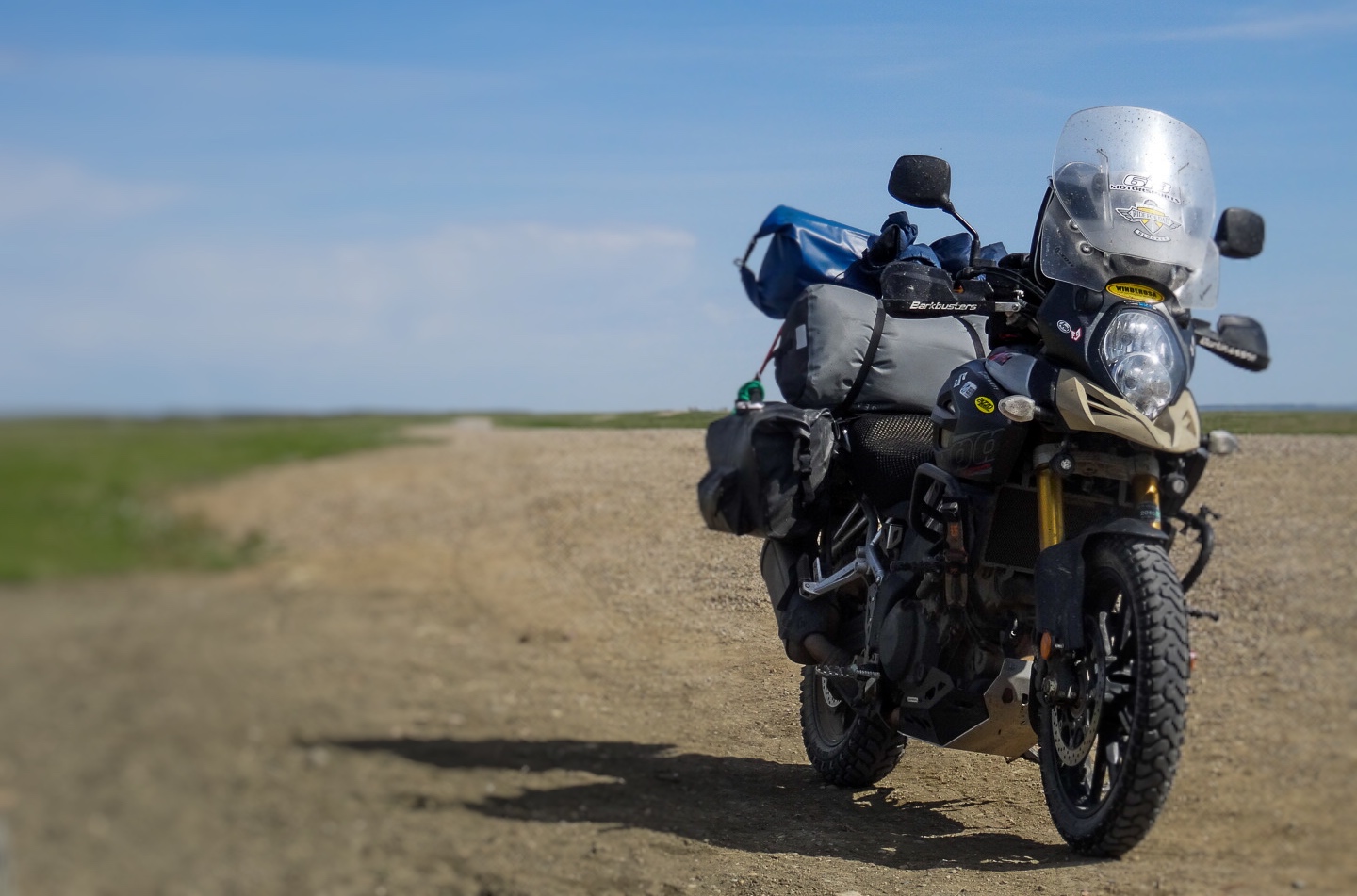 Thursday June 1, 2017
If yesterday's sunshine was a welcome respite, today's was like spending 12 hours with your best childhood friend.
All of the Fun was back in the adventure!
Awakening in my tent after a great 7 hours of outdoor sleeping I discovered that theshnizzle was already all packed up, intent on another long mileage day.
I had other plans.
Remember that equipment fail that I alluded to?
In truth, it was more of a 'rider fail' as I apparently did not pay enough attention to my load and how it was sitting on my bike.
I noticed as I was unpacking the bike last evening that I had a decent-sized hole melted through the rear bottom corner of my exhaust side Shad Zulupak waterproof saddle bag.
It was no longer quite so waterproof. Hot exhaust had seen to that.
So, I had to figure out a fix. Which meant heading towards the nearest city of any size and seeking out a Walmart, or a Canadian Tire – or, heaven help me, a motorcycle accessories shop to purchase new saddle bags.
My riding companion had no need for such time consuming activities, and as I mentioned she had her heart set on another looong day. Which worked well for both of us, considering.
After a breakfast of oatmeal and coffee I saw my new friend off, knowing full well that we will either meet up again along the way or at the very least in Dawson City.
Which left me free to do as I wish, when I wish.
That is truly the only downside to traveling with other riders: I always pass up the things that I would normally investigate, or the scenes I would normally get a picture of.
The upsides are numerous: company; assistance if you get into a jam; help with decisions; etc
So, on my own and free to roam, that is exactly what I did. I spent the morning exploring the plains and rolling hills of Grasslands National Park
This park is home to Canada's largest population of prairie dogs, as well as a herd of Plains Bison, and rattlesnakes.
I'm happy to have seen only two of the three!
After getting my Grasslands National Park sticker at the visitors centre it was time to head off and continue west.
My route brought me through Swift Current where I stopped at the Walmart and found absolutely nothing helpful to my situation, and then into Alberta to Medicine Hat.
By that point I had decided that I was not going to purchase new waterproof bags, and there was no rain in the forecast, so I continued on through Lethbridge – a really cool small western Canadian city.
I took a little tour through the main streets, visited a couple of parks, and then made my way to my resting spot for the night, seeking a smaller campground, and that is exactly what I found in the Coalhurst Miners Memorial Campground.
A toasted ham & cheese with fries at a local diner and it was time to set up camp.
I spent the evening chatting with a lad who was also a long-distance adventure rider (of the BMW persuasion) He has owned a fistful of bikes and he told me he rolls a couple hundred thousand kilometers on each before parting ways.
I had a great night sleep in the campground – the only distraction being the grain-trains. Nice to look at, but I needed to sleep with my ear plugs in.
And I still had to do something about that saddle bag. . .
Friday June 2, 2017
Friday morning the winds were freaking incredible! I needed the help of another camper to keep my entire kit from blowing across the field during take down.
However, a hot shower, a cup of camp coffee, and some oatmeal down the hatch soon had me ready and on my way. The high winds had me leaning way over to my left for the first 100 km of the morning's ride.
Now, while my ride through Ontario and Canada's Prairie provinces was fantastic, my journey into the Canadian Rocky Mountains was about to begin. This is where things change for me, and I dare say for a lot of people. The Rocky Mountains are a sight to behold for anyone, it really is a place that people should try and see for themselves, which they can do, and they can learn here how to do that. If you are an explorer, making your way there will surely give you a slice of the world that will stay with you forever.
The highlight of the morning was discovering – very happily – that my planned route of riding north from highway 3 through Crowsnest Pass would first involve over 100 kilometres of gravel forest trunk roads!
I loved every kilometer! AB 940 is one amazing roller coaster of wide, sweeping gravel road.
Back on the asphalt, I wound my way through the Bow River Valley headed to Canmore. On my way, I pulled over alongside Lac des Arcs to take this picture. I have to say that Ethel has carried the load of gear that I posted about last week (and took some Facebook heat over!) . . . . with zero complaint – and zero negative effect on her handling.
I rode into Canmore around 6:00pm and went directly to the Canadian Tire where I purchased a medium sized compression sack and a 10 litre dry bag.
Luggage problem solved.
I then went and set up camp alongside the Bow River at the Three Sisters Campground, and called it a day.
Next: Banff National Park & Pork Chops in Lake Louise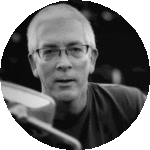 Joe
---