The Rocky Mountains to Dawson City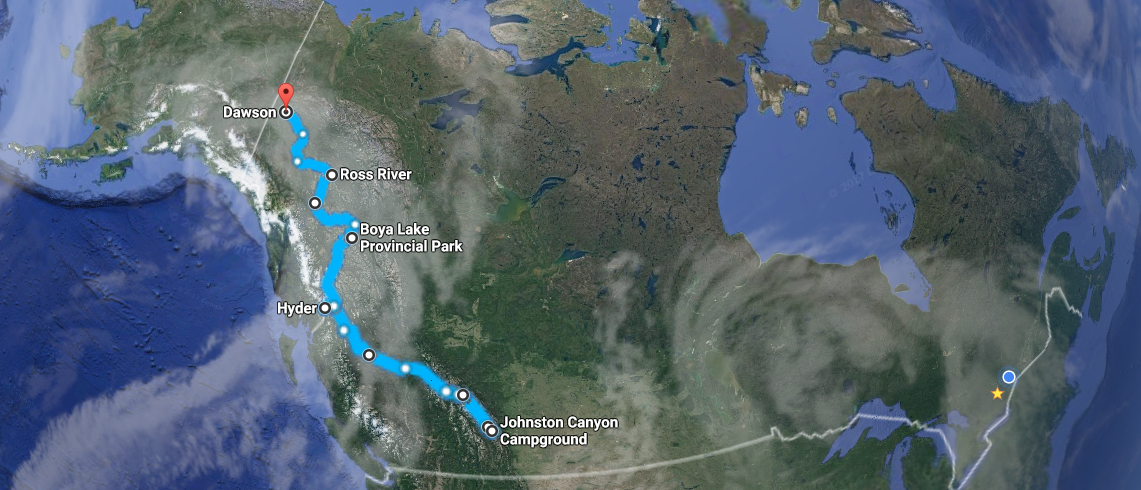 Route Plan Part II
As I stated in my last post – this route plan is subject to change by whim, weather, and just about anything else.
On Day 5, I will ride out of the prairies and head west for the Rocky Mountains.
In 2012 I rode the Shadow cruiser from Ottawa to Vancouver.
It was my first time riding across Canada, and I clearly recall being awestruck riding into the foothills in Kananaskis country.
I plan to ride the 800 km to Johnston Canyon Campground in Banff National Park. Banff is Canada's oldest Park. At over 6,000 km2 it offers lots and lots of space to get lost – and to find yourself.

When I awake on the morning of Day 6 I will have to kick myself into gear and get moving. To linger longer than an hour will probably see me stay the day. . .
Day 6 will see me riding from Banff to Jasper – a distance of only 265 kilometers, but it'll be at least a 6 hour ride due to all of the stops along the way. When I rode the Icefields Parkway (highway 93) in 2012, it was with my jaw hanging open. The vistas, the glaciers, the mountains, the sheer size of it all is almost beyond comprehension.
Day 7 will have me riding well into the interior of British Columbia. I plan on riding to Burns Lake, and may even grab a motel room for the night as I think my body might like to feel a bed beneath it by that point, and a hot shower in the morning will not go unappreciated.
Day 8 Is a ride from Burns Lake to Stewart, BC – a distance of 470 km, or about 7 hours of riding. I am heading to Stewart, on the recommendation of other adventure travellers, to see the Salmon Glacier.  The King Edward Hotel was recommended by another rider, so I will likely take in another night of luxury 🙂
Day 9 will take me from Stewart to Boya Lake Provincial Park, about 10 hours in the saddle; however, from what I have heard about Boya Lake it will be worth the long day. One rider, rickj, referred to Boya Lake as possibly the best campground setting that he has ever experienced!
Day 10 Is set to be my first ok, this is now an adventure day of the trip. I will be leaving Boya Lake Provincial Park and riding the Stewart-Cassiar highway up to where it ends at the Alaska highway outside of Upper Liard. There I will head north and west on the Alaska highway to Johnson's Crossing – all well and good, a route well travelled by just about everyone who visits the Yukon.
At Johnson's Crossing, however, I am going to head north towards Ross River. South Canol road, has been referred to with every adjective from "beautiful" to "horrible" and is widely considered to be a road best left alone if you are faint of heart. It is quite remote, and not a well maintained road, so I am really looking forward to it. I am not committed to making it as far as Ross River – I will simply set up camp whenever it feels right.
Finally, waking up early on my eleventh day of riding (likely my fifteenth day of the trip when the 'off-the-bike' days are counted), I will begin the last stretch to Dawson City, Yukon.
Day 11 will be close to 600 km, and over 10 hours in length, so I will certainly be ready to check into my room at the Bunk House in Dawson City once I arrive. The room is booked for June 14 to 17, so I will have ample opportunity to get some laundry done and catch up on the blog for the journey thus-far.
There is more to tell – I am heading up to the Arctic Ocean, after all – however that will come in a later post.
My hope is that these last 2 posts have whet your appetite for the adventure ahead – and piqued your interest enough to follow along.
I will post short notes – and several pictures along the way, and I will do my very best to answer any questions or comments left on the website.
Man, this is gonna be something!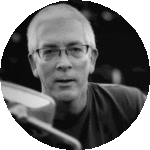 Joe
---