Ottawa To The Rocky Mountains

Route Plan – Part I
[simple-social-share]
Ok, so you know that I am about to embark on a pretty big adventure.
I've told you about the why – the D2D was all I needed, like a light for a moth.
Riding somewhere around 7,400 kilometers one-way to attend a 2 day gathering of like minded adventurers may seem a little 'out there' – but it makes perfect sense to me.
So that's the why, but what about the way? I thought it would be a good idea to put my upcoming trip to Canada's far north into perspective for you.
Here is a link to a Google Map of my planned route from Ottawa to Banff National Park. I will start the ride from Ottawa early in the morning. I'm just not yet sure what morning. Sometime between May 25 and June 1 is a close as I can narrow it. The thing to keep in mind is that this is fluid planning and subject to change – possibly to a great degree – according to any number of things that could, and may occur during my journey.
On Day 1, I plan to ride almost 1,000 kilometers. A long first day with 12 – 13 hours in the saddle. I hope to make it to just north of Sault St. Marie and camp at Agawa Bay. Agawa Bay is just off the Trans-Canada Highway along the icy blue shore of Lake Superior Provincial Park – at 1,500+ square kilometres it is one of the most beautiful parks in Ontario, and maybe all of Canada.
I plan to rough camp as much as possible, setting up my tent under the cover of darkness in areas that are generally not considered camping friendly. Places like the roadside rest areas that you see all along the Trans-Canada. Those roadside signs with a picnic table on them are like a beacon for some of us. Get in late, get out early.
In my experience, if I set up camp after dark, don't make a spectacle (no campfire, no litter, leave no trace), and I'm gone by sun-up, no one is the wiser and no harm done. It is an almost-but-not-quite unspoken secret method for many adventure travellers.
Outside of the cities and towns, there are innumerable places to rough camp here in Canada. I've also been told that microwave and cellular transmission towers make a good spot: a large, flat expanse of gravel, and minimal chance of people passing by. Then there are the department of highways sanding/salting storage areas. They generally have a large parking area and again, minimal traffic.
Strictly speaking, you cannot legally camp, or in some cases enter these areas – so for anyone who hasn't done this before, make your own decisions and exercise caution and due-diligence. I am not encouraging anyone to break the law, or trespass. The most important thing to keep in mind is this – wherever you stop to set up camp, leave it like you found it, or better.
On Day 2, I will head out from Agawa Bay and ride as far as Upsala, Ontario – a much shorter day at only 685 kilometers, about 9 hours of saddle time. At least, that is the plan. You have to keep in mind that this is a truly stunning part of Ontario, and of Canada. There is a very strong possibility that I might just decide to linger  on a beach somewhere . . .
On Day 3 of riding, I plan on riding from Upsala Ontario to Riding Mountain National Park in Manitoba, a distance of 840 kilometers – roughly 10 hours on the road – another long but worthwhile day! I'll likely spend 2 nights here if the weather is clear.  The Parks Canada website has a photo of shimmering green northern lights in the vast night sky.
This leg of the journey will have finally seen me leave Ontario. Yes, driving across my home Province is the same distance as driving from Ottawa to Atlanta Georgia. Ontario is HUGE! You can cross 7 US States in the time and distance that it takes to cross Ontario. How's that for perspective?
On Day 4 of westward travel,  I am riding to Grasslands National Park, in Saskatchewan. Grasslands is home to a herd of Plains Bison, a majestic animal once hunted almost to extinction. I should point out that before yesterday, neither Riding Mountain nor Grasslands National Parks were on my route plan. As I was typing up this post last night I got to thinking that it would be apropos for me to visit as many of Canada's National Parks as I can on this adventure of mine, marking Canada's 150th in my own way. So I started looking at the map with a new criteria in mind, and after a couple of Google queries realized that these two parks were now on my must-see list.
Again, I may spend 2 nights here, just taking in the peace and serenity of the wide open plains and a couple of evenings of star gazing.
Then it's another 800 kilometer day to Johnston Canyon Campground in Banff National Park, Alberta.
Finally, I will have made it to the Rockies.
A place that I may never leave. . .
Next up – Part II of Planning the Route: From Banff to Dawson City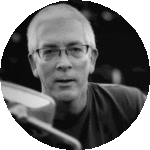 Joe
---