Roll With The Changes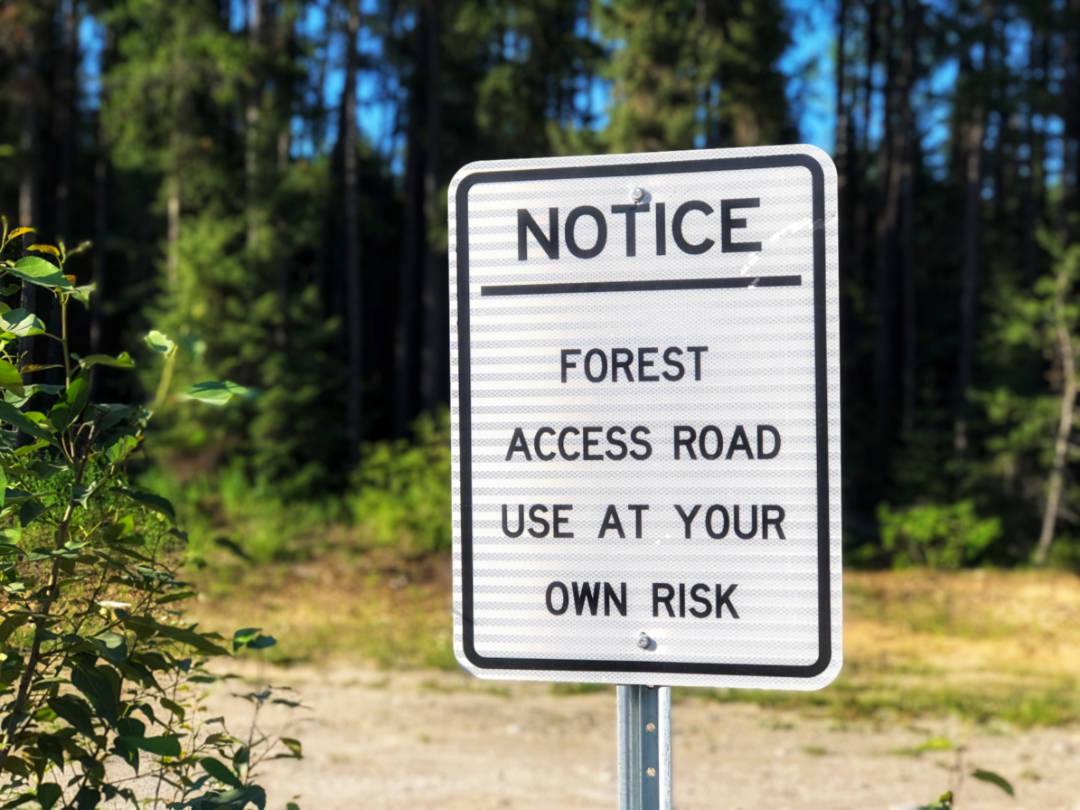 A lesson in remaining happy
My last post was about riding and exploring the Mid-Atlantic Backcountry Discovery Route. It is a ride I have done twice now, the last time being during July of 2019.
The world sure has changed a lot since that ride. And while this post is not about COVID-19, the pandemic is a part of the story. As it is a part of our lives. No, this post is actually about me continuing to learn – and remaining open to being taught. In some ways, it is a lesson in remaining happy.
My local riding buddies and I started batting around the idea of another motorcycle adventure in early February, making loose plans to ride some or all of the newest BDR: the North East Backcountry Discovery Route, or NEBDR.
And then the world shutdown.
We first started hearing reports of a strange new illness appearing in China in early February or so, and by mid-March life, as we had known it, had changed dramatically.
We were being told that not only were we not to travel, we were to stay home. Period.
That alone was a huge pill to swallow. I mean, I had plans. Destinations.
Adventures.
And the entire world put their lives on hold.
You know the story – you have lived it just as I have and I truly hope that you have not lost loved ones to this strange new viral disease.
It has been more than 5 months, and while some restrictions are being lifted across the globe, there still appears to be no real end in sight.
It has been downright depressing, to say the least.
Obviously we cancelled our NEBDR adventure for the time being. With the Canadian – US border being closed to all but 'essential' travel, there was no possibility of riding backcountry routes in the states.

So we adapted our plans and began trying to come up with a different ride to do.
One that honored the current COVID-19 state of affairs, adhering to local and regional law, but still allowing us to get away for a bit.
The original plan was for a ride from Ottawa up to Radisson, Quebec way up north off the eastern shore of James Bay.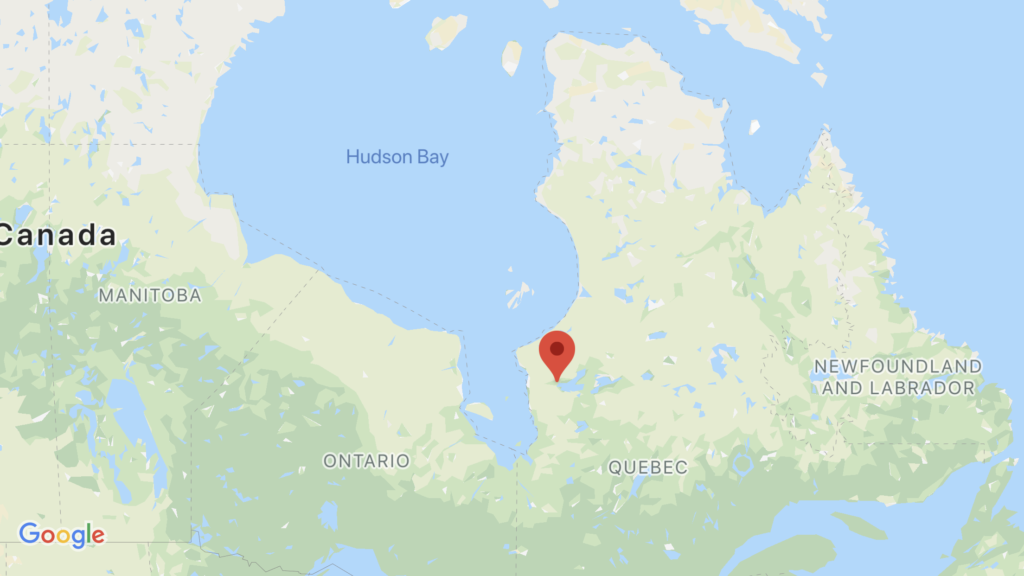 It's a ride I've done before and it can be very, very enjoyable. The scenery is stunning and the riding is pretty darn good so long as you're paying attention. What I mean by that is the fact at the James Bay Highway has some of the deepest road snakes and asphalt ruts that you're likely to see anywhere.
It's a road that can certainly be hazardous in a four-wheel-drive truck let alone on a motorcycle.
The plans were laid, invites were made, a departure date was set and then I had second thoughts about the whole thing. You see, travel restrictions were still in place in many Canadian Provinces (and still are, as of this writing) and while the non-essential travel ban in Quebec had recently been lifted, I really didn't want to be 'that guy' riding around in the far, remote reaches of another Province enjoying my travel adventures while at the same time potentially alienating – and angering – every local that I met. No, for me the biggest attraction to adventure riding is the people and personalities that I meet along the way. Not the number of people that I can anger with my mere presence.
I contacted the lads and explained my reasoning and each agreed – riding out of Province in late June was probably not the best of ideas.
Which of course left me with one course of action: come up with an adventure in Ontario!
It did not take me very long at all to settle on a destination. I have written previously about my snowmobiling adventures up in northern Ontatio, riding the trails around Cochrane, Smooth Rock Falls and the Abitibi Canyon, but I have never been up there on my bike. I know a few riders who have, and so I reached out to them for route suggestions and must-ride gravel roads. Within 48 hours I had my route all laid out as .gpx tracks on my Garmin Montana GPS and I was eagerly chomping at the bit to get riding!
The other lads, however, were not able to join me on the new adventure as it had shifted by a couple of days, and their availability is not quite as flexible as mine. No worries though, right? I mean, I have traveled across Canada from coast to coast twice now on solo-riding adventures. Certainly a jaunt up into Northern Ontario would be awesome as a solo rider!
I got Big Ethel all packed up on a Monday morning and full of coffee and a sense of adventure I hit the road, smiling in my helmet from ear to ear. This was going to be a good test of some recent repairs that I had had to make after a catastrophic swing-arm failure in mid April. More about that in an upcoming post.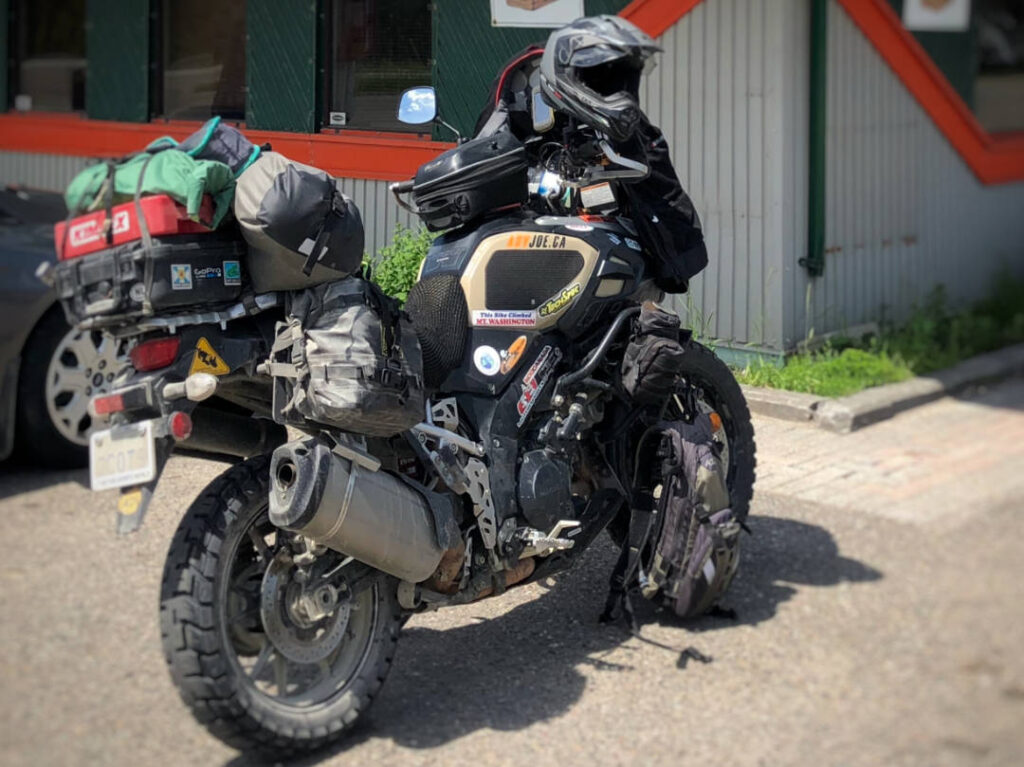 The ride started out as all of my rides do: absolutely perfect. I was in my happy place (or, more accurately one of my several happy places) with nary a care in the world, no set agenda and only a rough outline of what each day might look like for the next 5 days or so. My first stop after leaving Ottawa at 8:00am was for coffee and a rest at the Tim Horton's in Deep River. The ride up highway 17 from Ottawa is pretty straight and boring until this point, and hour and 30 minutes in. But from Deep River on it just gets prettier and prettier.
I stopped for fuel in Mattawa and took a few minutes to snap off a couple of pictures of some interesting elements, including a carved wooden statue of one of the Ottawa Valley's pioneers and the subject of much folklore and a song by Stompin' Tom Connors, Big Joe Mufferaw.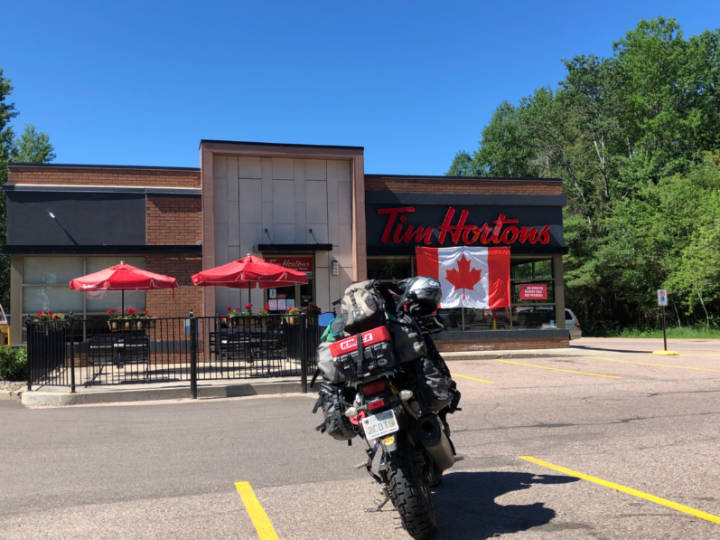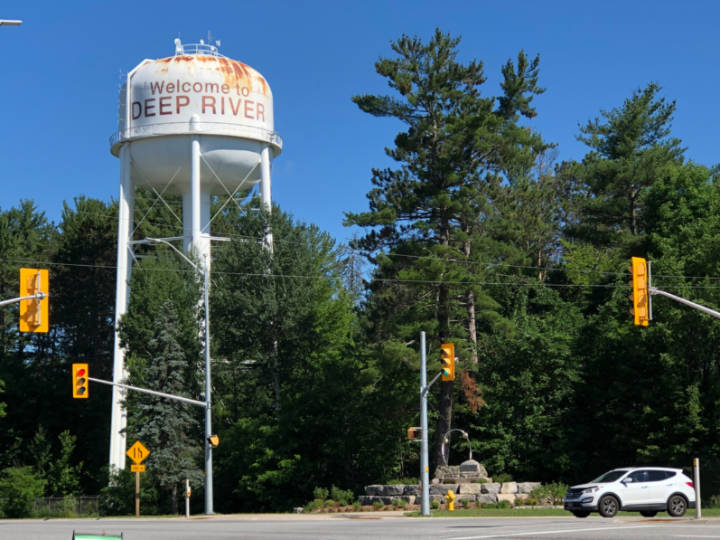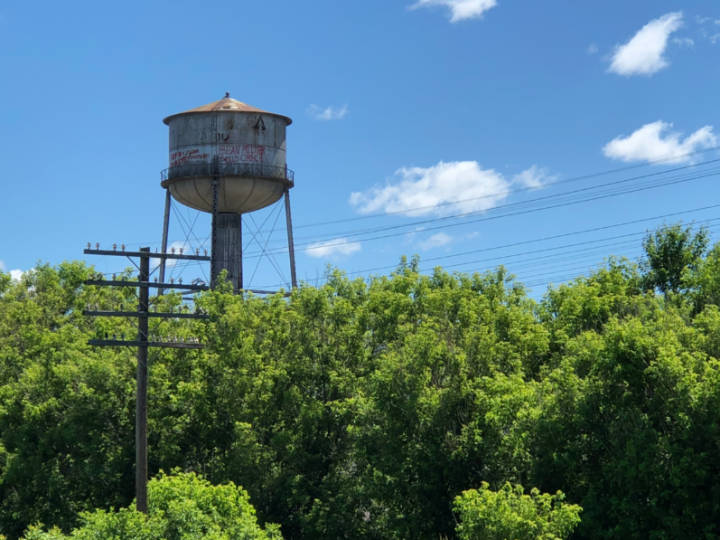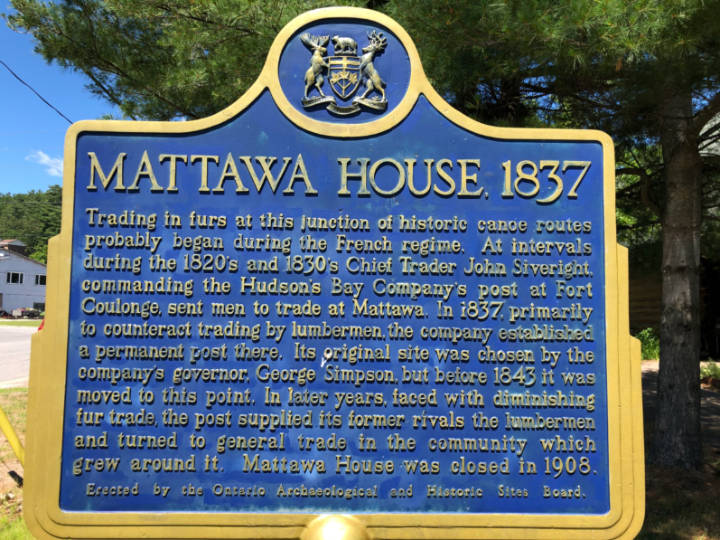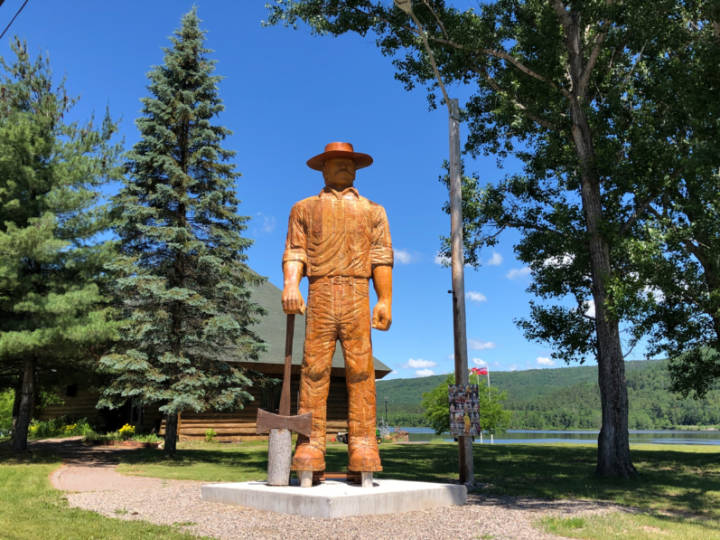 It was as I was getting ready to continue riding west towards North Bay from Mattawa that I thought to myself "I should look at my GPS and see what alternate routes I can ride." I have traveled this stretch of highway a dozen times. It was time to change it up a little.
And now I have a question: after riding over 100,000 kilometres on motorcycles in the Ottawa Valley area, why the hell has no one ever told me about highway 533 North out of Mattawa? What a road!!! This little gem, some 53 kilometres long, is an absolute blast to ride – and its obviously no secret as virtually every vehicle that I saw on this twisty little ribbon of northern forest 2 lane blacktop was another bike. I implore you – if you are ever riding in the Mattawa Ontario region, take the time to ride the 533. You can thank me later, lol.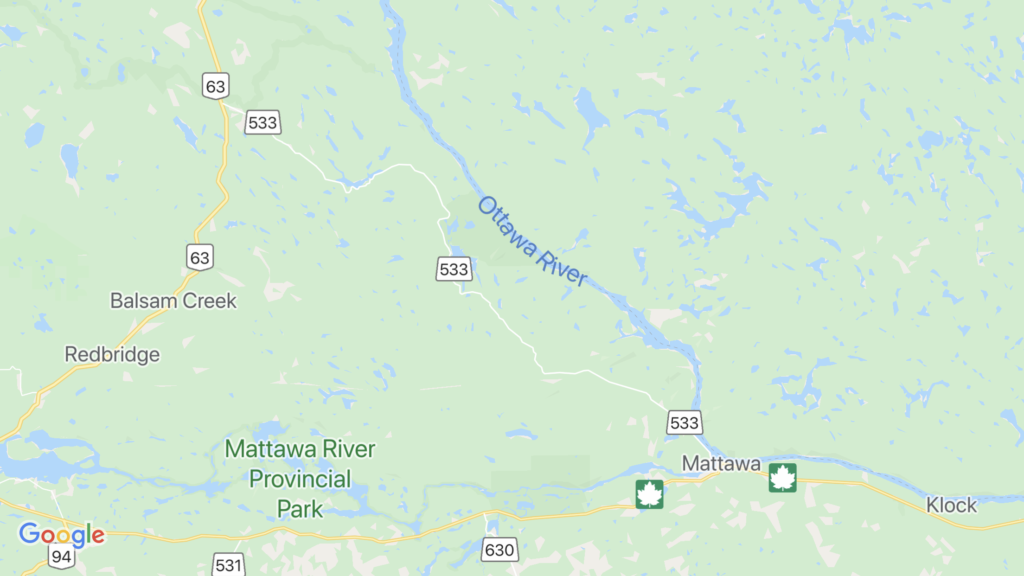 The truth is, highway 533 ended up being one of the highlights of the trip. But we will get to that shortly.
Having no real itinerary, my intention was to ride to somewhere around Elk Lake and rough-camp somewhere nearby for the night to cap off day 1. I headed north on highway 63 at the end of 533N and figured I may as well ride the 101 up to Notre-Dame-du-Nord and then take 65 to Temiskaming Shores. It is a route that I have followed before, both on my old cruiser and on my V-Strom and it is fairly scenic and enjoyable. It is also a lot shorter than it appears to be when looking at the map. I was in Temiskaming Shores having a break at a McDonalds by 3:00pm and Elk Lake was just a short piece down the highway. That, of course, led me to rethink my plan a little bit.
If I was to ride a little ways past Elk Lake I would come upon Gowganda, and according to the .gpx routes that I had pre-loaded into my GPS there was a really nice looking gravel road heading north from highway 560 all the way up to Timmins, Ontario. I had been riding way more than enough asphalt by that point so I figured some gravel therapy was exactly what the doctor ordered. And off down the road I went.
My next stop was in Gowganda, Ontario. It's okay if you haven't heard of Gowganda. Unless you are an avid fisherman or hunter and have an affinity for deer flies and black flies, you will not likely have ever been faced with a reason to know where Gowganda is.
"It took less than 2 seconds of slow-motion gravity claiming victory for it to all be said and done."
I will never forget where it is. You see, it was in Gowganda where change fell upon me. And my adventure began to take a turn . . .
One of the tenets of adventure motorcycle riding is that you never pass a fuel stop if you do not know where the next one is. And, since I was about to ride somewhere in the neighborhood of 150 kilometres of remote gravel roads in an area that I had never ridden before I promptly pulled into the pea-gravel parking lot of the Gowganda Lake Lodge when I spotted the above ground fuel tank with a 'Premium' sticker on the pump. I got off the bike, pumped about $6.00 worth of premium unleaded into her tank, filling it to the brim so that fuel worries would not be niggling away at me and went inside to pay.
Even here, right on the water it was stiflingly hot. my dashboard read 35 degrees Celsius and according to the lady behind the counter it was 45 degrees Celsius with the humidex. I bought another litre of water for my hydration pack, paid my bill and got back on the bike. Dropped her into gear, pointed the front tire left towards the road, and promptly dropped Big Ethel right there in the gravel parking lot.
No, I did not take a photo. I wish I had. Because it is such an easy mistake to make. Overheated, tired and intent on getting 'somewhere', I paid no attention at all to where I was in the moment: sitting on 10 centimetres of soft pea gravel. The moment that I turned my front wheel it dug a little trench in the gravel and as soon as I applied the throttle the front tire slid out from under me. It took less than 2 seconds of slow-motion gravity claiming victory for it to all be said and done.
So that was mistake number 1.
I immediately then made mistake number 2: I bent down and grabbed ahold of Big Ethel by the handle bar and the sub-frame and heaved her back up. And felt my back go out.
Well, I know how to pick up a bike using the butt-to-the-saddle method, so I took off my helmet and my jacket and crouched down as low as I could, once again grabbing handle bar and sub-frame and began to lift. I got her about half-way up before losing my footing in the gravel.
Big Ethel remained on her side, lying in the gravel for the next 30 minutes. Because that was how long it took before someone rode up to the dock on a Sea Doo that was able to help me.
There is not a lot of traffic out Gowganda way.
Now if you have read any of my earlier posts about my adventures then you know that I am no stranger to dropping my bike. As a matter of fact there are two common sayings amongst adventure riders:
If you haven't dropped your bike yet you are not riding hard enough;
There are 2 types of adventure bikes: those that have been dropped, and those that haven't been dropped yet.
Big Ethel has had more than her share of naps, and I more than my share of 'offs'. Yet I have always been able to pick her back up. Now granted I had just topped off a 20 litre fuel tank, and there was some 50 pounds of gear strapped to the seat and in the saddlebags. And I did not take the time to remove any of that weight before attempting to right my fallen bike. But those things did not sit front and centre in my mind. What did sit there, growing like a black fungus in my psyche, was the fact that I could not pick up my bike alone and worse, had hurt my back trying.
I shoved that depressing thought-cloud deep and far away, turned some Genesis on in my helmet headset, thanked the young lad for helping me lift my bike and got back on the road in search of Grassy Lake Road. If ever there was a time when I needed to clear my head, it was now.
Well, 10 minutes later I was riding on a beautiful gravel forest-access logging road the heads north toward Timmins. Wide and pretty much free of potholes I was able to get into the zone and just enjoy the ride.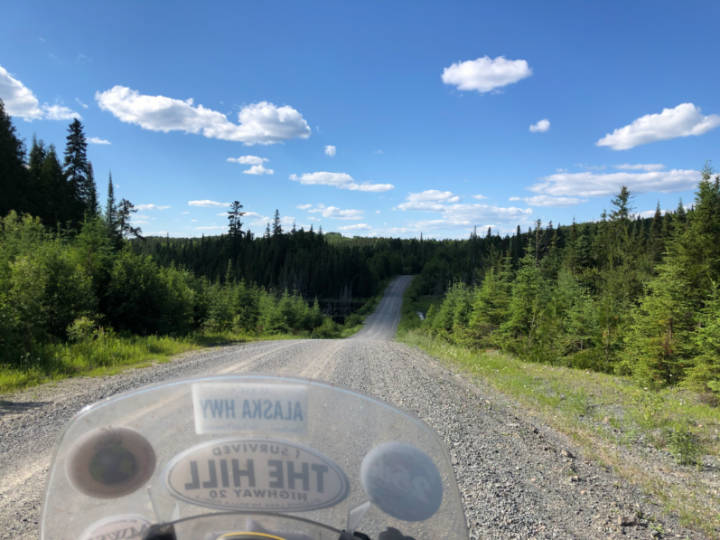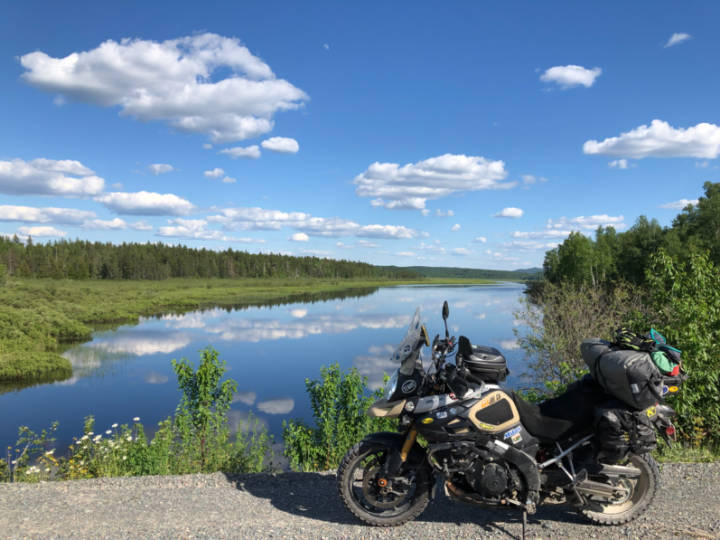 I got completely into the ride, so deeply enthralled by the scenery and the constant movement of the bike beneath me on the gravel as we flew along at 60 or 70 km/h that I didn't even consider looking for a suitable camping spot along the way.
Not all was perfect though.
The trouble was, the road had been topped with gravel and graded for stretches of several kilometres along the way. There were several 'holy-crap' moments where the bike got really loose beneath me as the road surface transitioned from hard packed to freshly graded, deep and slippery gravel. Now, these are not new experiences for me. I have ridden a lot – I mean, a LOT of gravel roads. But I was left feeling shaken every time the front wheel got a little squirrely. The excitement-filled laughter that so routinely echoes in my helmet after pulling through these moments was gone.
Instead I found myself feeling apprehensive, slowing down to 30 kph and nervously trying to pick a line. The 'fun-factor' was gone.
This was not therapy at all.
I chose not to dwell on it. I chalked it up to being overheated and tired and ready to call it a day.
Grassy Lake road gave way to Naybob road which in turn became Pine Street south and before I knew it it was 7:00pm and I was in Timmins, Ontario. Sweating profusely and exhausted, I made the only reasonable choice: I got a room at the Holiday Inn Express!
Even though I had all of my camping gear with me, the idea of trying to get a good night's sleep in a tent when it is still 33 degrees Celsius at 7:00pm does not make sense to me. Especially after an 11 hour, 775 kilometre day. Maybe as I am aging I find myself enjoying the finer things in life a little more.
Like a shower. And air-conditioning.
It goes without saying that I had a great night's sleep and woke feeling refreshed and ready for adventure. I took my time enjoying the now 'bagged' complimentary breakfast and 2 cups of coffee before packing up the bike and heading west out of Timmins on highway 101, once again in search of more gravel-therapy. The final leg of yesterdays ride, between Gowganda and Timmins on fast-flowing forest logging roads had me excited to see what lay ahead.
I had already begun to forget about the shitty parts.
I rode a short distance west on 101 before turning north on the Malette Lumber Road, following a .gpx track that, if all went well, would eventually bring me out to Smooth Rock Falls.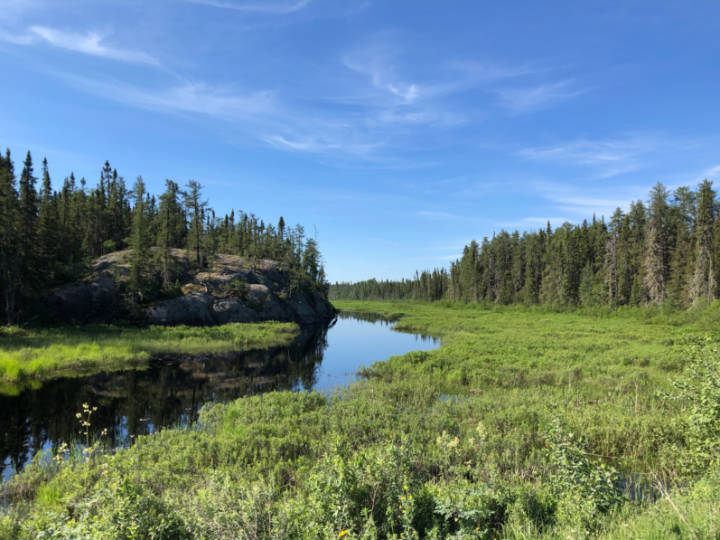 Being an active haul road for the lumber mill, this slice of gravel sees a lot more traffic than yesterdays stretch did. It was already 28 degrees at 9:00am and the road was dry and really dusty. I found myself pulling to the shoulder and stopping frequently as stick-haulers approached, content to sit and wait for the clouds of dust to settle rather than try to ride blind and breathing it all in. It was really reminiscent of riding the Trans-Lab highway in 2015.
The .gpx track eventually had me leave the logging road and start riding a smaller forest-access road that would eventually become Red Pine Road.
It would also eventually become a narrow 2-track road, and finally an ATV trail. The riding was pretty fast for the most part, and the scenery was absolutely beautiful. Of course the pace got slower as the road got smaller and rougher, but it was till a nice ride. There were some challenging sandy areas, and some rocky sections too, but nothing too serious.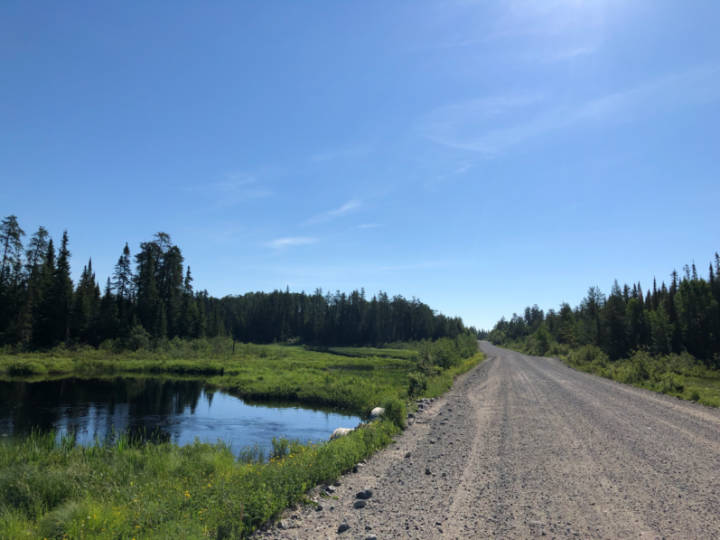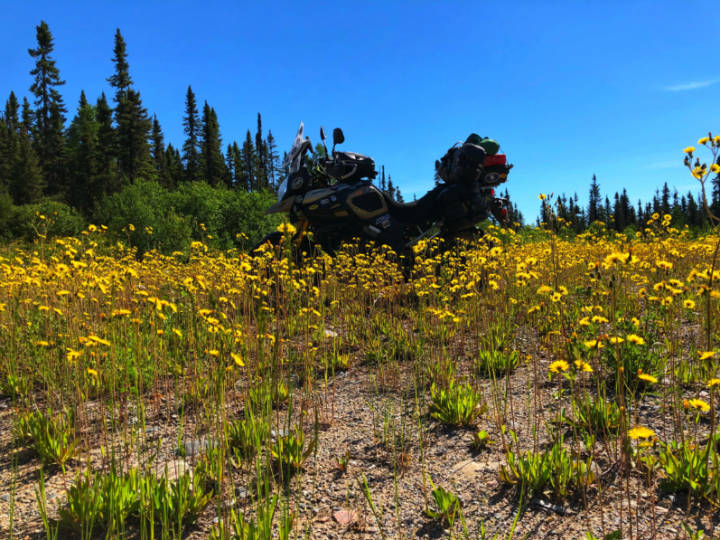 The road got smaller and smaller as I traveled further north towards my next destination of Smooth Rock Falls, and it was also becoming wetter the further I went. Marshes and ponds were encroaching on the road, and before long I was at my first of several water crossings.
I prudently walked them all first, not willing to chance drowning my bike way out here in the middle of nowhere. I had not seen another vehicle or residence in at least an hour.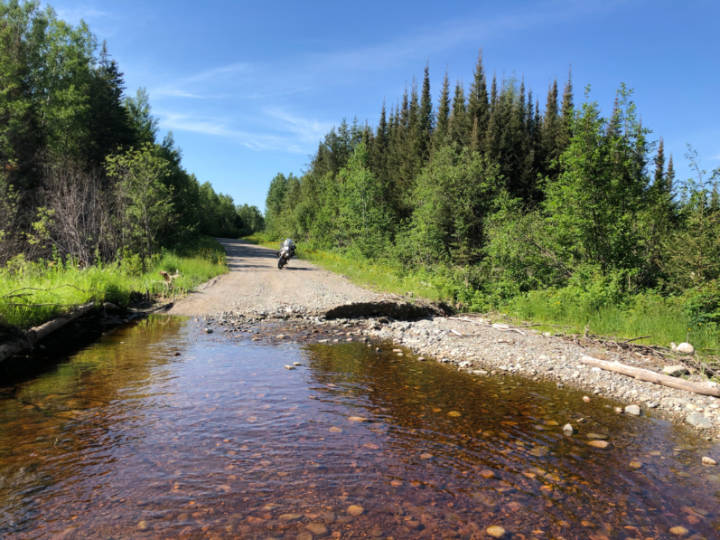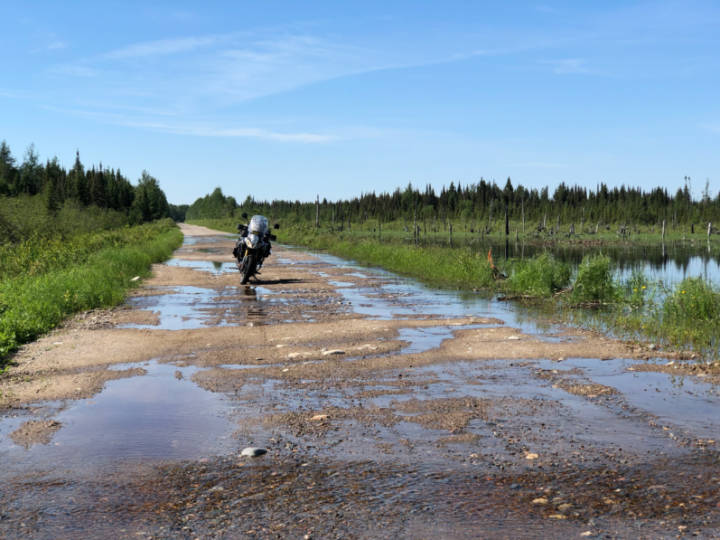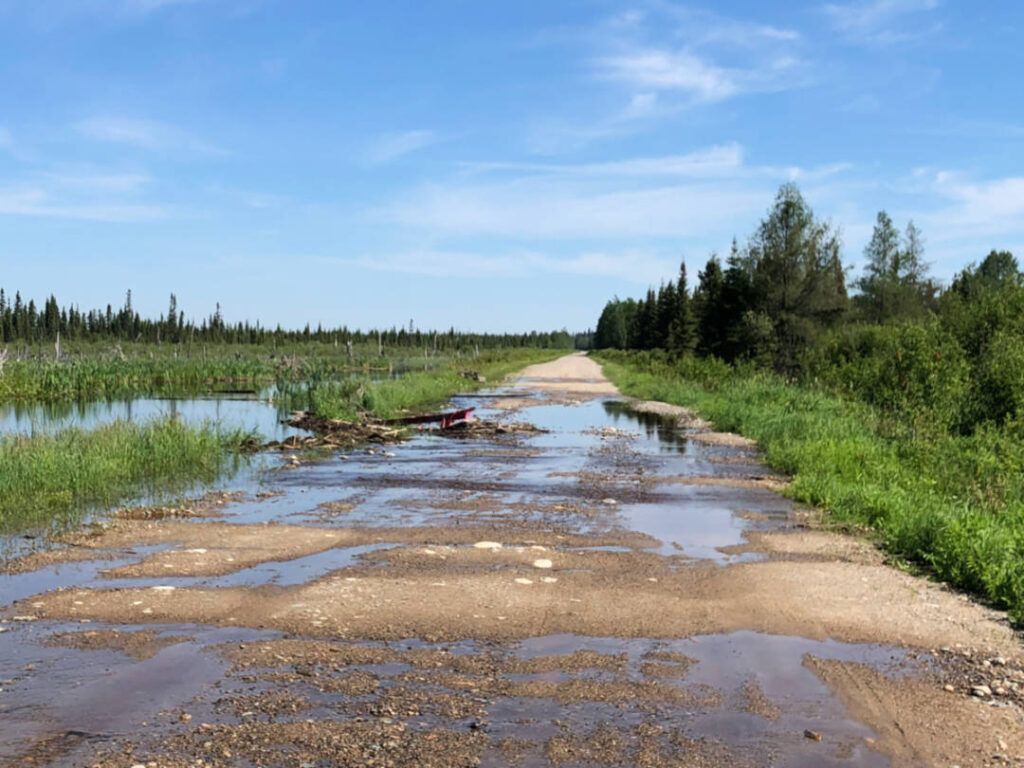 Those are the last photos that I took while riding on Red Pine Road. In hindsight I wish I had snapped a few more. Especially of the young lad in the 1 Ton Ford Dually that I met about 30 kilometres after this. By that point the road was nothing more than a snowmobile trail, the branches of the trees smacking the mirrors on both sides of his truck as he approached where I had pulled to the side to let him pass.
"The water came right up over my hood, and then I had to turn around and come back through it again. You gotta turn around and head back out buddy."
The young lad had his windows down and the A/C on full blast, smiling broadly and I found myself just a little envious.
I had just come through the deepest of my water-crossings thus far and was anxious to know what lay ahead as I waved him to a stop.
"Hey man, I'm heading up to Smooth Rock Falls. I'm guessing I will be okay to make it through if you were able to get all the way down here in that" I said, smiling.
That was when he smiled a little wider and pointed to his drivers door mirror. And the swamp grass hanging from it.
"I was trying to do the same" he said. "About 25 kilometres ahead, still 20 kilometres short of highway 11 at Smooth Rock there's a hole that you will never make it through. It was too deep for me to even try" he said, shaking his head. "As a matter of fact that came from the hole just before it" pointing at the swamp grass. "The water came right up over my hood, and then I had to turn around and come back through it again. You gotta turn around and head back out buddy."
Thanking my lucky stars that this fella just happened cross my path where and when he did I turned the bike around and he waved me to go by and lead the way, knowing he would likely be traveling slower in his big pick up truck than I would on my adventure bike. I mentioned just how happy I was to have met him and off I went. Backtracking the way that I had come. All the way back to Timmins.
And the dark cloud of doubt began to come back front and centre in my mind.
"What the hell are you doing riding way the hell out in the middle of god-knows-where on your own you fool!" was the main line of the chorus of voices berating me in my head. "What the hell are you going to do if you drop your bike out here?!" echoed along with "oh ya, won't it be an adventure once you drop your bike in a water crossing and drown the motor!"
All of a sudden I was questioning everything that I was doing. I was not enjoying the ride. I was not living in the moment. I was living in fear.
So I did what anyone would do. I cracked the throttle and rode the edge for the next hour, slowing only for the water-crossings and even taking them a little faster than I should have.
I needed the intense focus that is required to ride these roads at speed and the pure adrenaline shot that comes from riding on the edge to quiet the doubt-filled demons in my head. And it worked.
For a while.
I stopped at a Tim Hortons in Timmins and grabbed a coffee while deciding on my next course of action. It was now just after noon and I was right back where I had started the day some 3-1/2 hours ago. Ultimately I decided that there was really only one thing I could do: ride the highway from Timmins to Smooth Rock Falls, take a break and then head up to the canyon.
Which is exactly what I did.
It was near 2:00pm when I pulled into the Esso station at Smoothies Restaurant in Smooth Rock Falls for gas and a bathroom break. Boy, it sure looks different in January.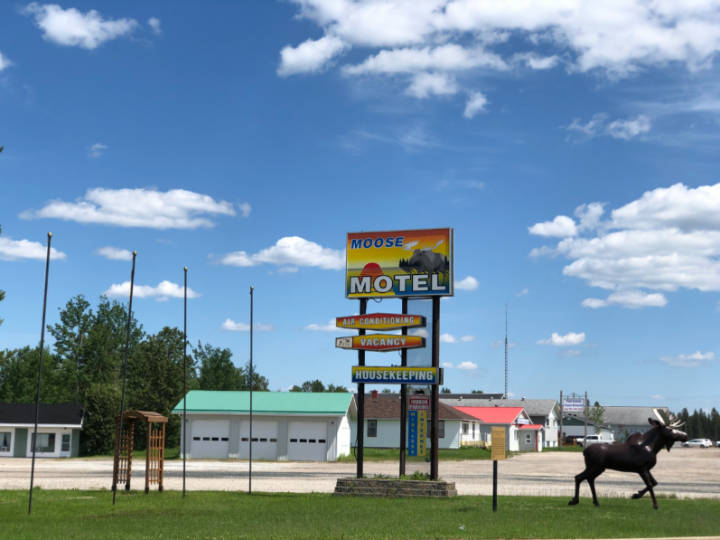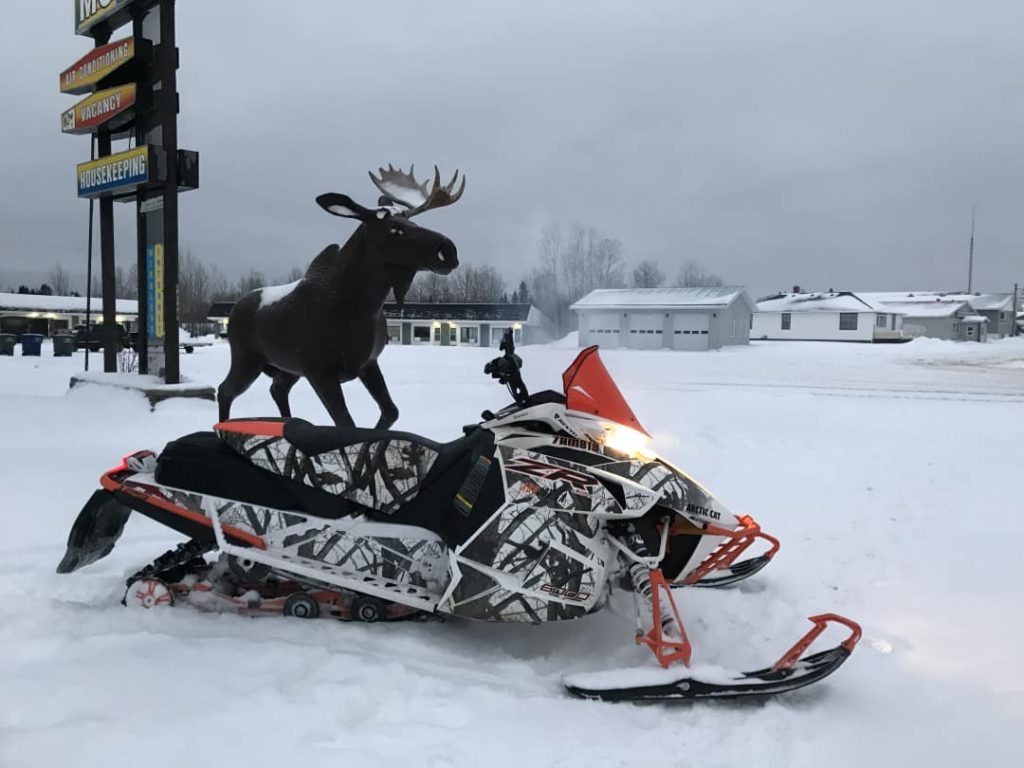 My ultimate goal for this ride was to get up to Abitibi Canyon and take in the views in the summertime, contrasting them to what I am familiar with seeing in the depths of winter. The highlights that I had been anticipating all along, however, were the amazing gravel forest roads that criss-cross this region of Northern Ontario.
And so far, my eager anticipations were being overruled by intrusive thoughts and mother nature. There was one gem of a ride left to be experienced though – I had been told so by several riders: the forest access road from Abitibi Canyon to Little Long Hydro station and back down Smokey Line road to Kapuskasing. This would be my new 'highlight', I was certain of it. I would ride to Abitibi Canyon, take a few pictures and then venture off into the farther reaches of Northern Ontario before once again heading south towards Kapuskasing and then on towards Foleyet.
I made it to the dam at Abitibi Canyon by a little after 3:00pm and parked my bike, removed my helmet and jacket and walked out along the top of the dam on the crossing grates to get a few pictures.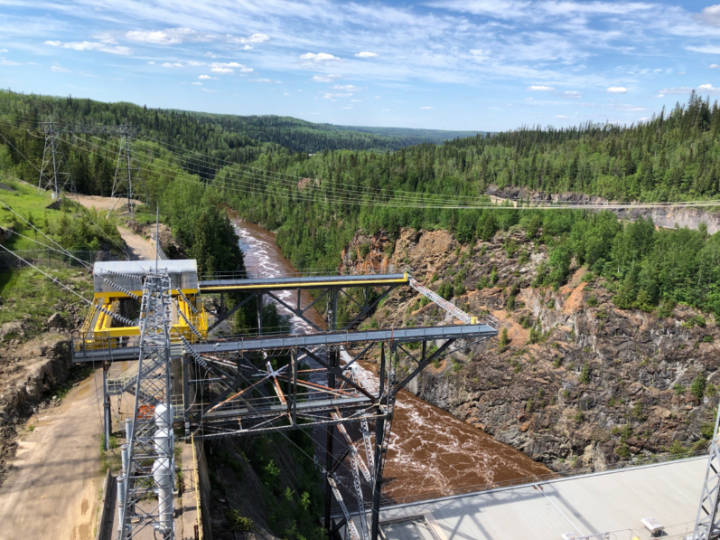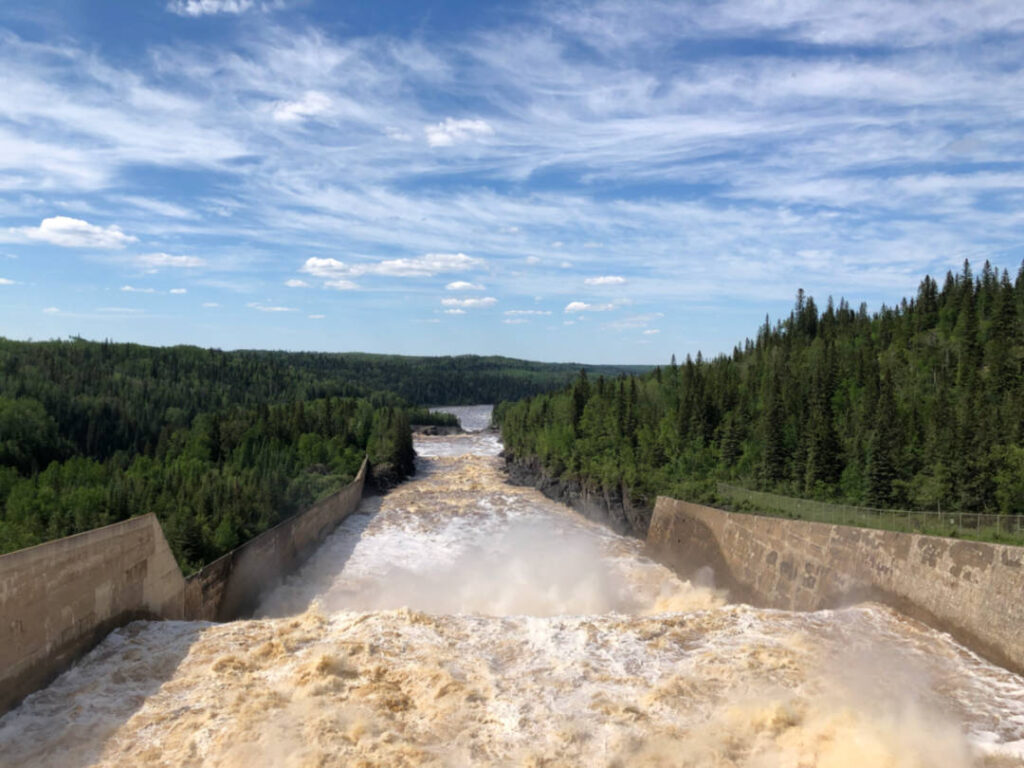 It was while I was standing on top of the dam that I had a little visitor. It was almost as though I was being sent a message through the most unlikely of messengers.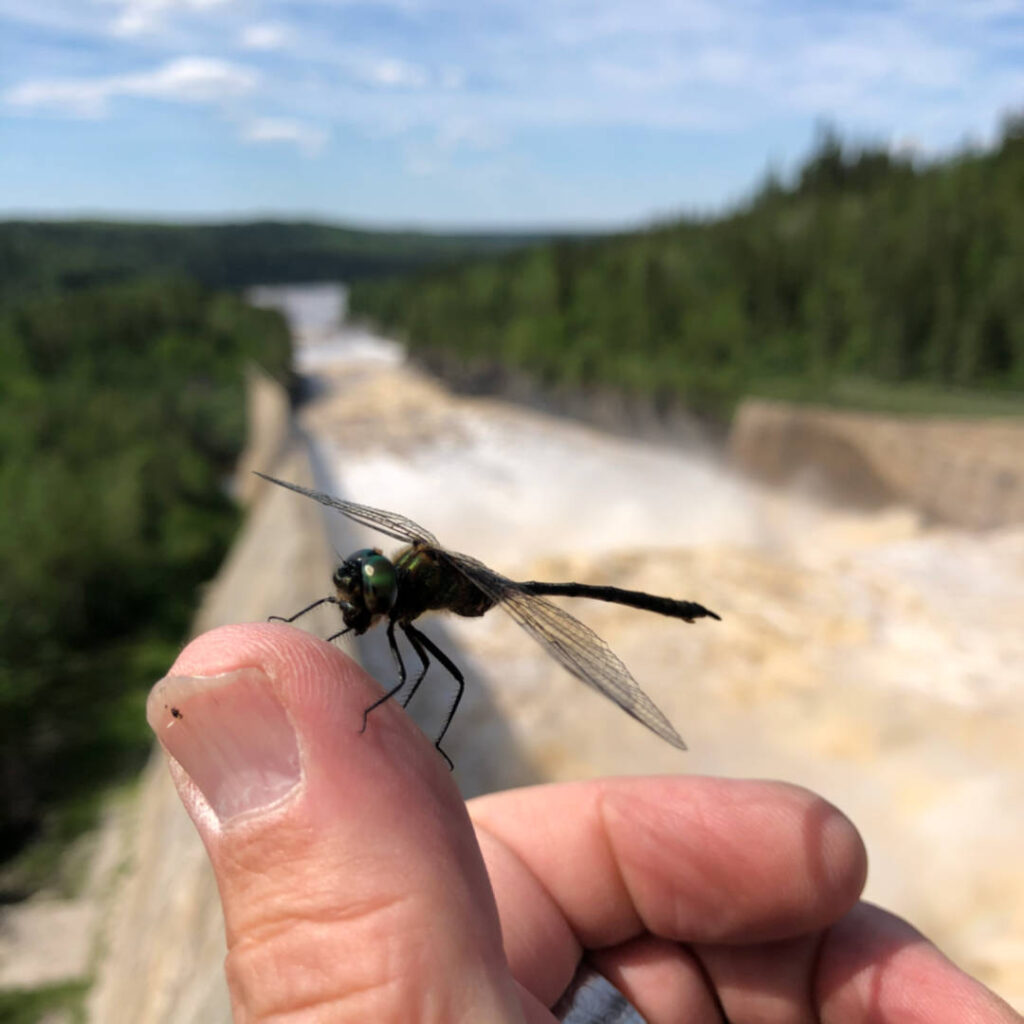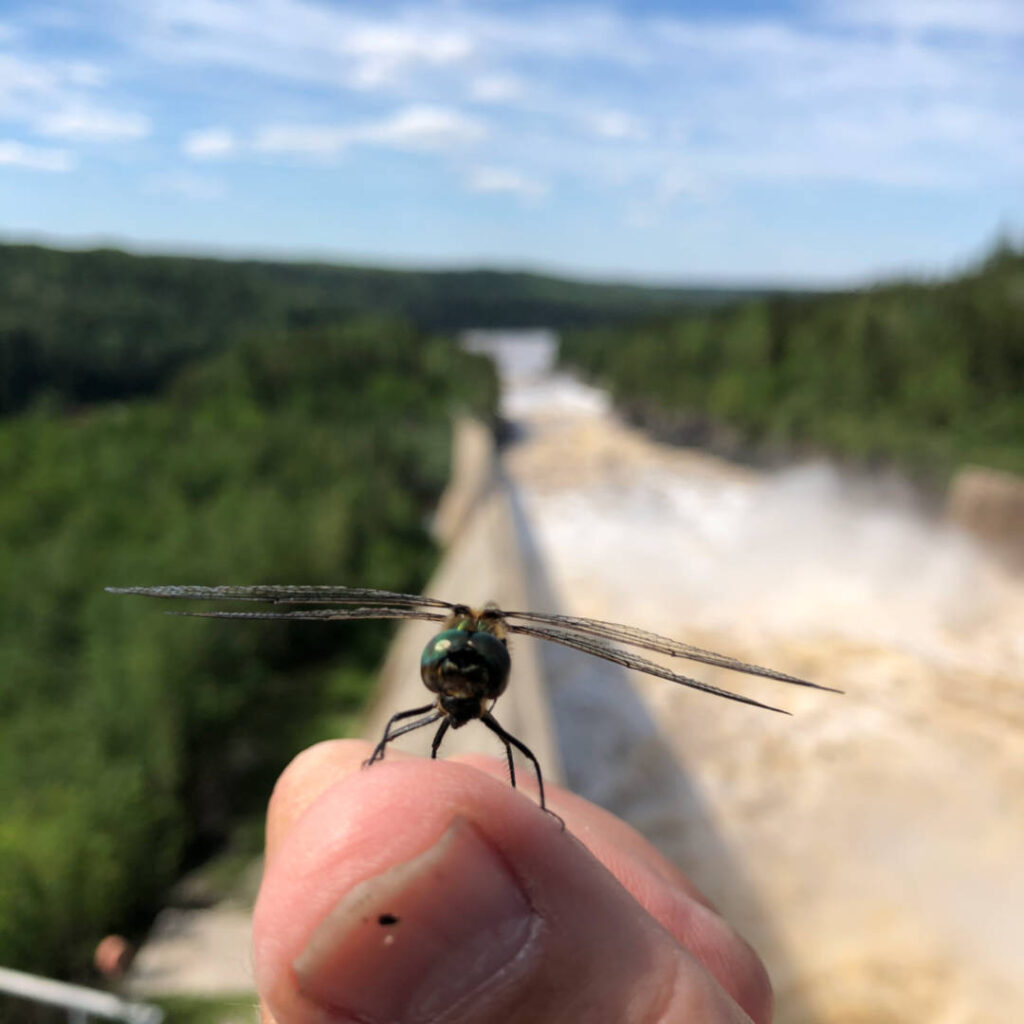 I don't know if I received the message, but I did get a couple of cool photos, lol.
About a minute later a hydro worker drove over to me in his work truck and asked me about my bike and my travels. I mentioned the frustration of being turned around by deep water earlier in the day and he laughed, saying "ya, we had over 100mm (4 inches) of rain last week. The water is really high up here right now. Where are you headed next?"
I mentioned my plan of riding to the Little Long Hydro Generating Station and then heading south to Kapuskasing on the forest-access roads, possibly rough-camping in the bush somewhere along the way.
"Well, you will want to go back to the intersection and read the construction signs the have put up" he said. "I'm not sure this is the best week for that ride."
Sigh.
We chatted a little while longer and then I walked back to the bike to go and see what he was talking about. As I was walking to my bike I saw something that I had never noticed in all of my winter visits to this very spot: a series of informative and memorial plaques erected in honor of the men who built, operated and on one tragic day died at this dam.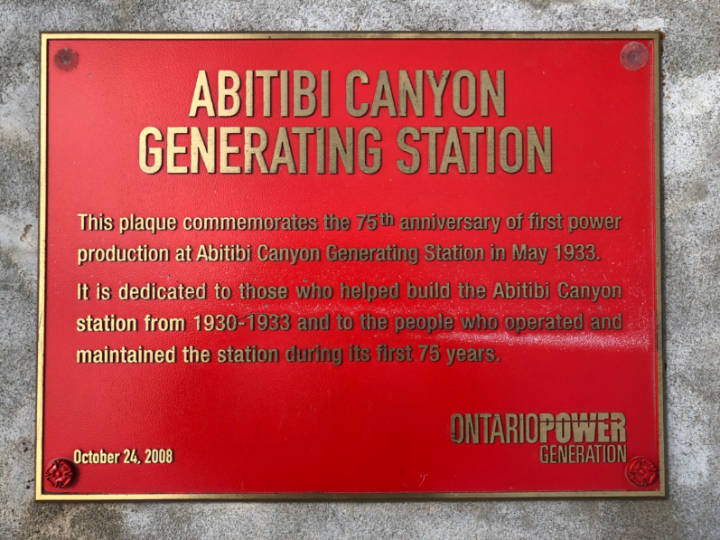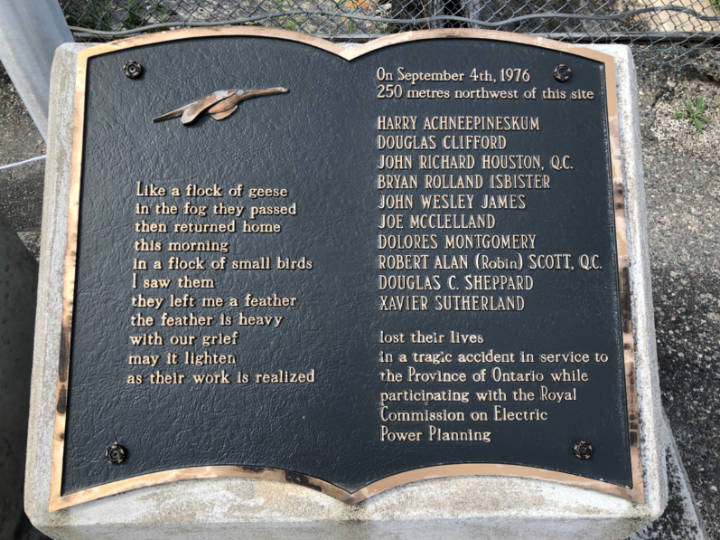 There is also an obelisk with a series of commemorative plaques that display Rudyard Kipling's poem 'The Sons of Martha'. Standing there, reading that poem in that place, having a new understanding of the lives lost in the development of an area that I take for granted as a snowmobile rider, left me a little dumbstruck. It was a strangely touching moment for me, and that is why I am not posting those photos here. I believe that the obelisk deserves to be seen in person. And the moment experienced first hand.
My friend Daren would agree.
I was a full 10 minutes lost in reverie before I got on the bike and made my way to the intersection where I would turn back north to ride to Little Long. And was immediately faced with yet another decision about my plans.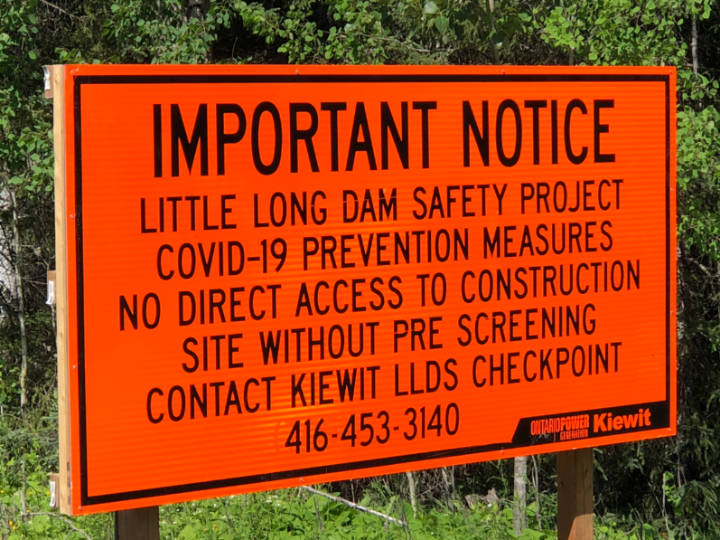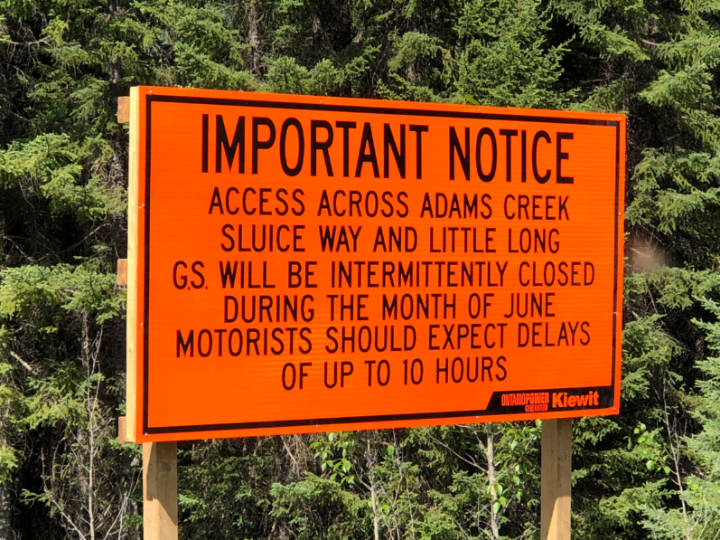 The signs made it pretty clear. It was another stiflingly hot day and there was no way I wanted to risk riding another hour only to then have to wait for several more – or be turned around.
So I turned Big Ethel around and headed back the way that I had come. All the way to Smooth Rock Falls.
It was during that hour long ride that I made a decision: this adventure was now at an end. I was not enjoying myself to anywhere near the degree that I normally would and I could not escape the cloud of funk that had befallen me. I lost all view of the beauty around me and saw only the defeats; the turn-around's and backtracking; the incessant 'what-if's' floating through my mind. It seemed like the more that I tried to go forward, the further back I was pushed. And it was still 35 degrees up in Northern Ontario. What the hell was up with that!?!
My hips were sore, my ankles were sore, my ass was sore. I could not find a comfortable seating position no matter how much I shifted. One thing just compounded another.
So I headed south on highway 11 as soon as I arrived back in Smooth Rock Falls. And just kept on riding. All the way to Temiskaming Shores and the Quality Inn hotel. Another 10 hour, 700+ kilometre day.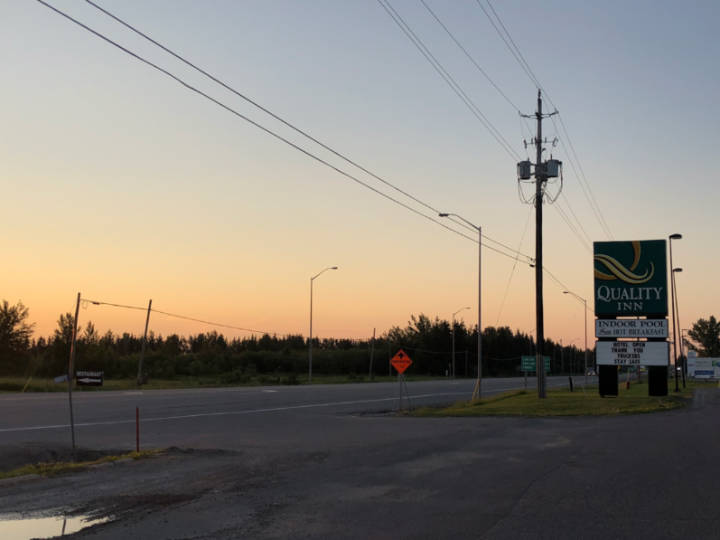 I got up the next morning and made breakfast in my room: Oatmeal with blueberries and a cup of instant coffee using my Jet-Boil stove. It felt like a necessary way to start the day, if for no other reason than to feel at least a tiny bit self-sufficient.
An hour after hitting the road, though, the pain was back. And it made me frustrated. So I started berating myself again. "Why the hell do you need to ride 7 or 800 kilometres in a day?"; "What were you thinking doing this ride alone?"; "Why don't you get a smaller bike?" "Maybe it's time to stop these adventures"
It was a long, long ride home. Another 550 kilometres, to be exact.The saving grace was my impulse to take a little detour between North Bay and Mattawa down highway 630 towards Kiosk. I just wanted to check out the abandoned settlement, but I never made it that far because I saw a sign. It read Eau Claire Gorge – right. So I turned right. And found a little piece of paradise. I stripped of my helmet, jacket and gloves and walked the footpath to the gorge and the water falls. And I sat down. And took a deep breathe. And felt grateful. Simply to be where I was, when I was.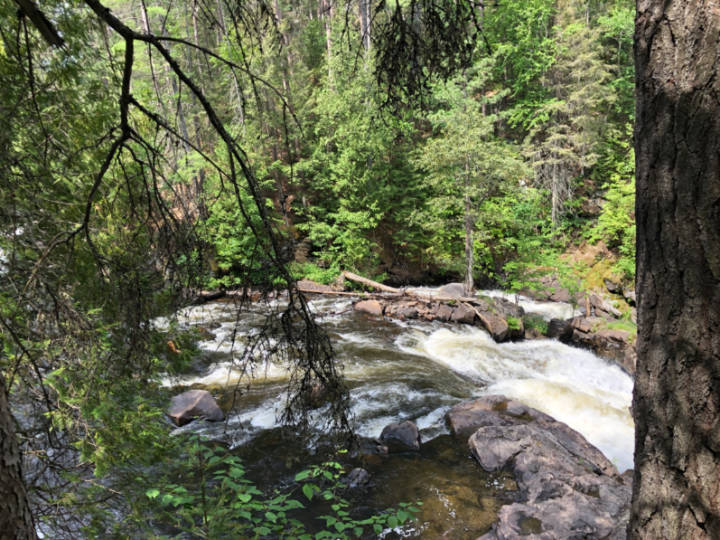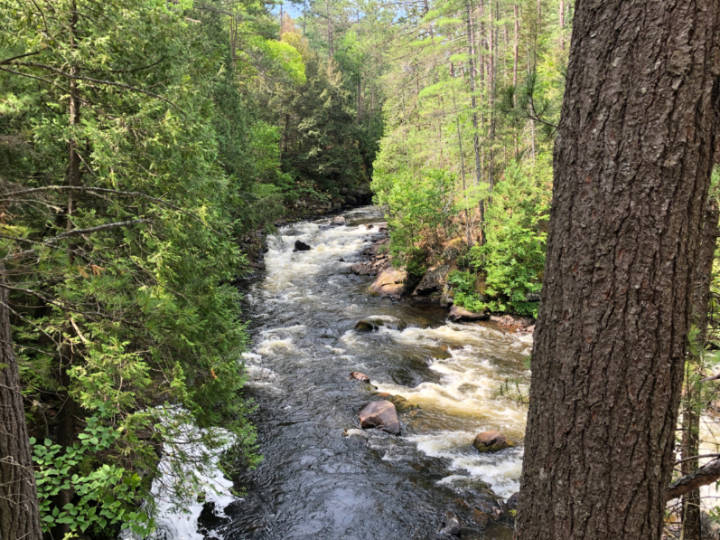 I started thinking about that dragonfly, and what amazing creatures they are. And about the fact that maybe he truly was bringing me a message. About what amazing creatures we are. And what an amazing life that I have.
Maybe that dragonfly was trying to impart upon me a lesson in remaining happy.
And that was the moment that this entire post formulated in my mind, and in my heart. Because it is so important for me to remember to be grateful, and yet, sometimes I forget that. I forget that the easiest and purest path to true happiness is, for me, found in gratitude. Even 14 years into this new way of life and living, I still sometimes forget the lessons that I learned early on in my recovery.
Life is, and always will be changing. And mine is lived best when I remember to roll with those changes.
Oh, and I have come to 2 separate but related decisions:
I am not buying another, smaller bike. Big Ethel and I have many adventures to experience yet. But I AM buying a new, more comfortable aftermarket seat.
I am no longer riding long-distance gravel adventures alone. That will resolve all of my 'what-if?' questions quite nicely. It is one thing to get into trouble with friends around to help, and an entirely different thing to get into trouble alone, and isolated. So from now on I buddy-up!
Wow. That turned into a much longer post than I had expected. And if you are still here, reading to the very end, I thank you. I truly appreciate that. The next one will be shorter, I promise.
I put together a little video that highlights what this adventure taught me – and the video was shot while I was enjoying life in another one of my 'Happy Places' – my classic 1969 Pontiac GTO. I hope that you enjoy the video, and that you continue to enjoy the ride.
Now, I have to go and get my gear sorted for the Adventure Motorcycle Training Course that I am partaking in on Saturday.
Be good to yourselves.
Joe