6 Adventure Motorcycle Riding Activities To Check-Out In Ontario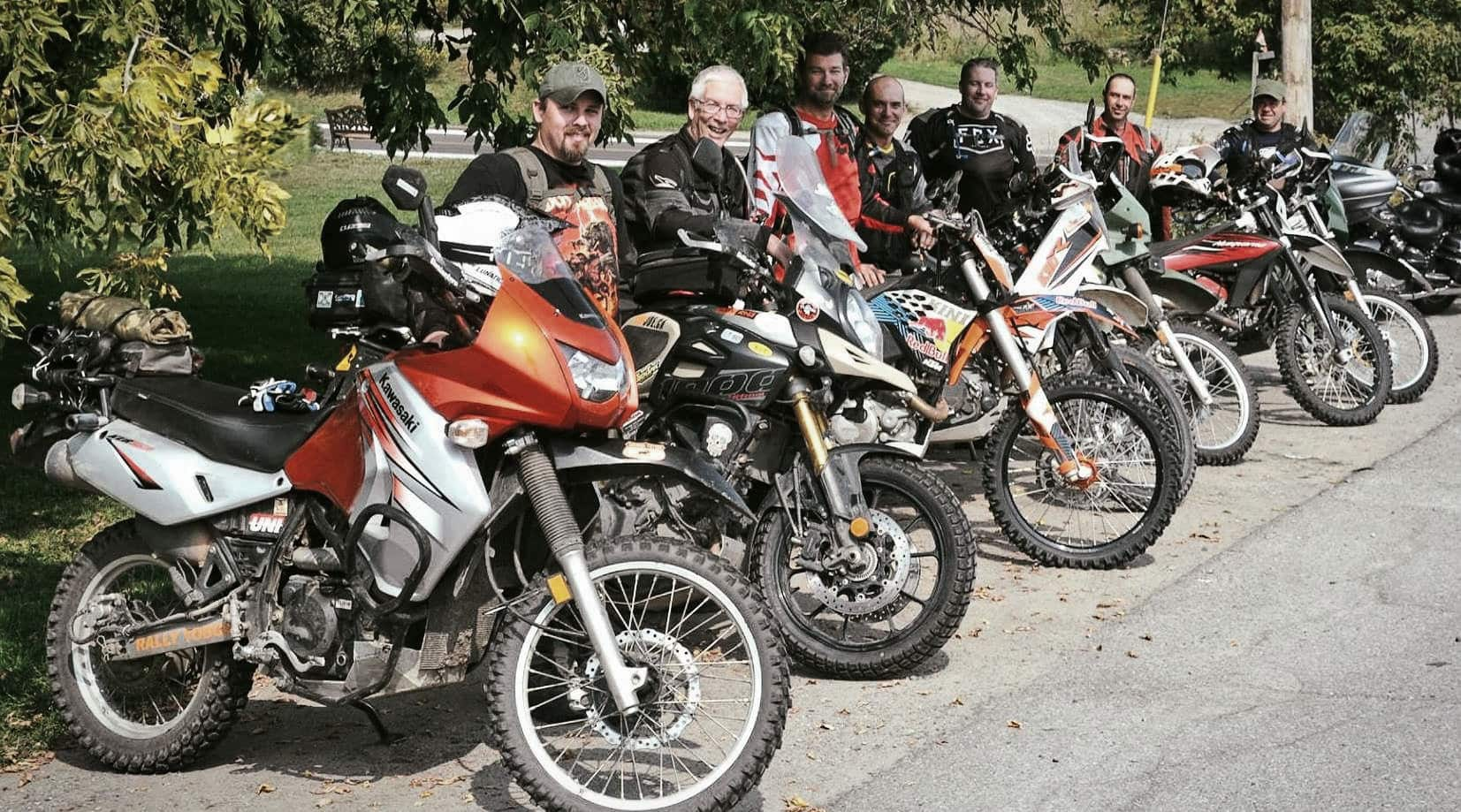 What Does The New Year Hold For You?
There's no denying that 2017 provided an amazing riding season for yours truly.
Riding 19,000 kilometers in 5 weeks during my Dust 2 Dawson Adventure was certainly the grand prize, if you will, however, there was a ton of amazing riding done right here in my big backyard of eastern Ontario.
Which is what this post is about. Riding in Ontario. And if by the end of this post you are chomping at the bit to get yourself your own bike and ride off into that sunset, then there is a Honda Magna V65 for sale if you want to check it out.
Adventure riding in Eastern Ontario
Of all of the great riding opportunities that can be found in this wonderfully beautiful province that I call home, a large percentage of them can be found in the Ottawa Valley area of Eastern Ontario.
Many more great motorcycle riding roads can be found in this huge province, far too many for a single post, so what I will do in this post is highlight some of the truly great rides and riding areas, and also some of the excellent opportunities that exist in Ontario to improve your riding skills, take a training course, go out on a guided tour or truly test your mettle in some premier off-road events. There is pretty much nothing like taking to the road on a trip through the Canadian Provinces and getting to stop at apartments similar to those from DelSuites to rest upon your travels before heading out again.
PSA: I am in no way affiliated with nor compensated by any of the individuals or companies that I have written about below. I have, however, met almost all of the people behind these organizations, and can tell you first hand that you will be hard-pressed to meet a better bunch of guys than Lawrence Hacking, Clinton Smout, John Boisvenue, Jason Milne and Lee Martin. I have yet to meet Ted Johnson, but I hear he's a pretty nice guy too!
Ok, let's get to the meat of it.
How to get the most out of riding in Ontario
There are 2 categories of riders who want to ride in Ontario:
Those who live in Ontario
Those who do not live in Ontario
For those of you in category #2: come to Ontario. More specifically, come to Eastern Ontario. Plan a vacation anywhere at all in the Ottawa Valley, then reach out on the popular forums like advrider.com, on Facebook groups like Ottawa Off-Road Motorcycle Riders or Ottawa Motorcycle Riders, or drop me a line – I would be happy to point you in the direction of a great ride.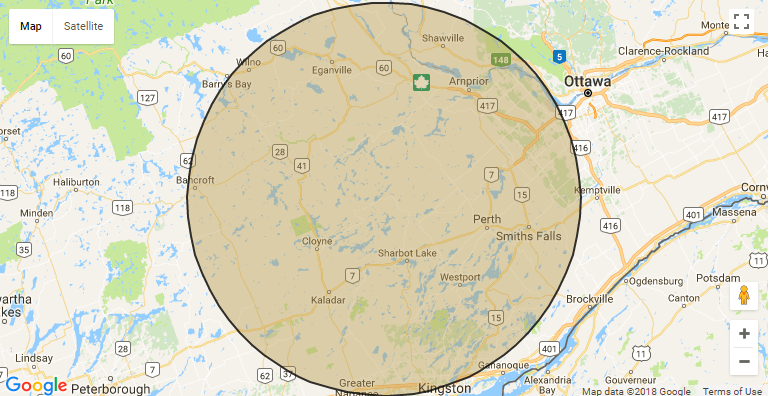 Ok, so now that we are all here, where do we start?
Six adventure motorcycle activities to check-out this summer
Here, in no particular order are six groups/events worth checking out this summer. There is sure to be something in the following list to suit everyone's idea of an epic weekend of riding.
1. Lawrence Hacking's Overland Adventure Rally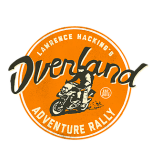 Lawrence Hacking is a well-known name in the off-road motorsports world. He started racing motocross in 1971 and became Canada's first rider to complete the Paris-Dakar Rally in 2001.
There isn't much that Lawrence hasn't done when it comes to racing motorcycles off-road, and his skills truly are second-to-none, though he would never admit as much. A self-effacing, unassuming gentleman with sparkling blue eyes that gleam from beneath a weather-beaten brow, Lawrence is reminiscent of the cowboys of yore, all grit and gristle until you have a chance to sit and listen to the man speak his stuff. Then it is all passion and know-how, with a humility that is rare to see in men who have accomplished all that Lawrence has.
Lawrence has thrown his heart into promoting his passion: riding motorcycles off-road, and he is most passionate about the family aspect of the sport. This passion has led to the development of one of the premiere motorcycle events in Ontario, Lawrence Hacking's Overland Adventure Rally.
Held in Parry Sound, Ontario and scheduled for July 6-8 of 2018, this is a 3-day event that you are sure to not only enjoy but to take something away from as well.
2. SMART Adventures

Clinton Smout is a close friend of Lawrence Hacking, and the two of them can often be found attending events across the province – and the country – together. Which is great for the attendees, because Lawrence usually shows up as part of Team Red, with a fleet of Honda's to demo, and Clinton arrives with a stable full of BMW adventure bikes. Talk about the best of both worlds!
Clinton is one of the most renowned motorcycle rider-training guru's in the world. His name is synonymous with technique – so much so that he is the only certified BMW Motorrad trainer in Ontario.
Clinton operates S.M.A.R.T. Adventures, the acronym standing for Snowmobile-Motorcycle-ATV-Rider-Training. If it has a motor in it, Clinton wants to ride it, and he wants to show you the techniques that will allow you to ride safely, and beyond your own expectations. His BMW rider training school is known clear across the country, and he gets riders in from all across the USA and from Europe as well.
If improving your off-road riding skills is something that you are interested in, take a good look at S.M.A.R.T. Adventures.
3. Horizons Unlimited Ontario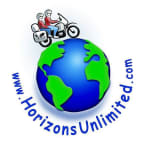 Interestingly enough, if you would like the opportunity to meet both of these motorcycle mega-men in person at the same place, all you have to do is register for, and attend the Horizons Unlimited Ontario 2018 event at Rice Lake, Ontario during the May long weekend.
Horizons Unlimited has become the #1 resource for overland motorcycle and adventure travel information and networking. What started out as an early e-magazine in 1999 (Grant and Susan were even pioneering the internet) is now a world-recognized digital treasure trove of information, advice, travel stories, routes, destination ideas, bike-shipping and all-things-adventure-travel-related!
They also put on some of the best-attended adventure-travel events in several countries the world over!
I have attended the Ontario, Canada event 3 times, and am going to make that 4 times this coming May. As many as 300 riders and overland travelers from across the planet converge on the HU gatherings every year. If memory serves, the rider who showed up at the Ontario event last year having ridden from farthest away had started out in Argentina!
A four-day event running from Thursday, May 24 to Sunday, May 27, the Horizons Unlimited Ontario event has something for everyone from demo rides to rider training events, self-guided tours, tech classes and speaker sessions to live music, vendor booths, excellent food and the camaraderie that goes along with putting a couple hundred like-minded people in the same place for a few days.
This year's event will be held at the Golden Beach Resort, Rice Lake Ontario. Only a 4-hour ride from upstate New York, a full day from central Maine, and a few hours from my home in Ottawa this central location makes it a really easy event to attend, and a great way to start off the 2018 riding season!
4. Valley Rally Enduro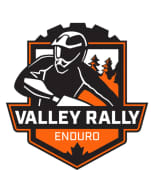 Okay, so we have covered three of the best adventure-oriented motorcycle related events and venues in Ontario, and each of them is well worth taking the time to investigate.
If you want to push things a little further though, you will want to check out some of the various rallies and organized adventure rides that take place each season in the deep, dark woods of the Ontario backcountry.
Starting the list is a new, up-and-coming riding outfit known as Valley Rally Enduro.
The name says it all. Operating in the Ottawa Valley area, with rally raid style terrain and difficulty levels best suited to enduro type motorcycles, John Boisvenue will test your skill, your stamina, and your willingness to push just a little harder. His guided routes currently fall into 2 categories:
Level 4 difficulty rides where getting back to base camp in one piece is a testament to your skill level and Level 2-3 rides for the rest of us.
Traversing some of the most incredible riding terrains to be found anywhere in the country, John's rides will leave you breathless at the end of the day. Which is cool, because he takes care of all of the end-of-day stuff for you, right down to preparing a home cooked meal in your lakeside cabin. And if an end-of-ride beer is on the menu, you will find the fridge stocked with your choice of available ales.
I went out with John and 6 other riders for the inaugural Valley Rally Enduro ride last fall, riding Big Ethel, my Suzuki V-Strom 1000. John was on his KTM450, and there were a couple of KLR's, a Husqvarna TE450 and a KTM690 as well as a CRF250 in the pack.
I gotta be honest, even though John took it pretty easy on us, there were a couple of times when I found myself wondering why I was riding a 520lb street-oriented adventure bike up a steep incline of baby heads – and I even got off and let another rider navigate my bike in one or two really sketchy areas, but that is more about my lack of off-road skill than anything else.
Valley Rally Enduro are the new guys on the block, and you can expect big things coming in 2018.
Intermission – go grab a coffee. You'll want to read the rest!
5. Rally Connex

There are a couple of other riding organizations in the area that have been making full use of all that there is to offer for several years now.
Rally Connex has been a big presence in off-road motorcycle riding in eastern Ontario for over 5 years. Based near Toronto, they offer a wide range of guided and self-guided tours, as well as some of the most popular adventure and enduro style multi-day rally events in the country. The Dacre Dual Sport Challenge and the Rock Hound Rally are prime examples of each.
Lee Martin heads a team of accomplished riders that all share his passion – to show the uninitiated just how incredible off-road riding in eastern Ontario really is. The company and the events that they host have been growing rapidly in recent years because Lee and his crew know their stuff they are always a part of the local community riding scene.
In 2016 Lee took part in and completed the Red Bull Romaniacs Extreme Hard Enduro, so saying that he knows his way around an enduro bike is a gross understatement.
Like the others mentioned in this write up though, Lee is more gentleman than a star, something I learned first-hand after running into him on the trails north and west of Calabogie 2 summers ago. Lee was out scouting routes for an upcoming ride, and I was making my way home from the 2016 Horizons Unlimited Ontario meeting by taking some forest roads and ATV trails through the bush near Griffith, Ontario.
We chatted for a few minutes, and I asked Lee if the trail was doable on my big V-Strom from Flying Club road out to Centennial Lake road.
"Yup, more than doable", Lee said. "Just make sure that you don't lean left going around the last gate near Centennial Lake road."
Well, I kept his advice in the forefront of my mind as I approached the gate post. So much so that I didn't even feel my right-side foot peg sliding up over the boulder and forcing my bike to lean – to the left.
I bailed and landed some 15 feet down a ravine. Big Ethel came to rest, wheels high, bars low, on a 35-degree incline about 10 feet into the ravine.
I was pooched!
I tried, and struggled, and pushed and pulled and tugged and lifted until I just about passed out, but I could not get Big Ethel turned around, or upright.
Some 30 minutes later, having decided to walk out of the bush and head towards Calabogie, I heard the unmistakable sound of Lee's Beta ripping down Centennial Lake road towards me.
The rest is the stuff of memories and laughter.
Lee still chides me about Ethel's big ass whenever we cross paths.
6. Gravel Travel Canada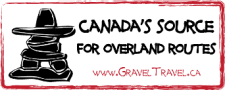 And finally, the organization that helped to birth the adventure rider in advjoe. I happened across the TCAT thread on advrider while I was recuperating from two broken ankles in 2014, and that was the genesis for my decision to leave the cruiser world behind and get myself an adventure bike. I even purchased Big Ethel sight-unseen from that same hospital bed!
Gravel Travel Canada started out as the answer to a crazy question: is there a way to travel right across Canada – the widest country in the world, without riding on any main highways?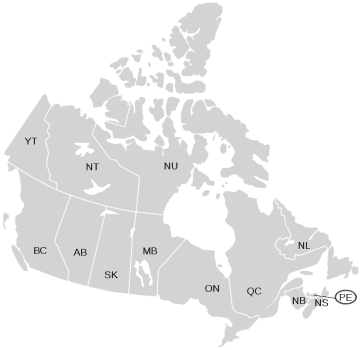 Well, several years, dozens of volunteers and countless hours of GPS tracks later, the answer is: YES
Ted Johnson and a few buddies took an idea, spread the word, asked for help from riders clear across the country, and completed the unthinkable: an almost entirely off-asphalt route from coast to coast.
That is a 15,000-kilometer adventure route!
Not satisfied to simply say "Ok, we did it" the folks at Gravel Travel Canada decided to take things a step further and developed an entire catalogue of downloadable GPS tracks of some of the most incredible off-asphalt riding in all of Canada, as well as designing and hosting one of the most challenging 3 day rallies in the country – the Roaming Rally. Below is a YouTube video posted by CdnX690, that will give you a glimpse into the Roaming Rally, and just what it demands of those brave enough to ride it!
7. BONUS – What about places to stay?

While I have limited knowledge of the various moto-friendly places to stay in Eastern Ontario, there is one that I am very familiar with, and I will shamelessly plug it as a favorite.
The VRE inaugural ride was staged out of Sunny Hill Resort, and owner Jason Milne joined us for the ride on his Husqvarna. An avid adventure rider himself, Jason has ensured that Sunny Hill Resort is motorcycle friendly and has been known to point 2-wheel travelers in the direction of some awesome riding.
We have staged weekend rides out of this jewel of a spot several times over the past 3 years, and it is a favorite amongst the group of guys that I ride with regularly.
Spacious, comfortable and well-appointed cabins right on the shores of Bark Lake, where the fishing alone is reason enough to book a long-weekend getaway, Sunny Hill Resort is located just outside of Barry's Bay, Ontario. Smack-dab in the middle of some of the very best asphalt road riding and gravel forest access road riding to be found.
It is these undulating, roller coaster like gravel cottage and forest access roads that are the real draw for us, and big adventure bike riders will find themselves grinning ear-to-ear all day long as they drift the rear end over some incredible gravel twisties.
This entire region, below the southeast corner of Algonquin Park from Barry's Bay to Bancroft, over to Merrickville and up to Renfrew, is home to the very best-of-the-best of Ontario motorcycle riding. You will find the asphalt in the Calabogie area to be riding Nirvana, as the changes in elevation and frequent curves and twisties are known far and wide to be among the best in all of eastern Canada. What you may not know is that the off-asphalt gravel and dirt riding is every bit as good! There are some hidden little gems that even the locals don't like to mention, lest they become well known and well traveled.
That's a lot of choices
Okay, I am about 1,500 words further into this post than I had originally intended, so I am sure you'll agree that it is time to draw it to a close. I encourage you though, to make some notes. Add some bookmarks. Really explore the webpage's that I have linked above.
But please note: I urge you to exercise caution when perusing the lists of offerings: you may find yourself contemplating extreme life changes like leaving your job, your family, and your home behind in pursuit of some of the most incredible adventure riding this side of the Alps.
Plus, you might enjoy yourself so much that you find yourself debating whether or not to purchase a shiny new motorbike for your next trip. Motorbikes can be expensive though, so if you cannot afford to purchase a bike outright, you might want to check out this motorbike finance calculator to determine how much money you could be entitled to borrow.
So, what do you think 2018 might have in store for you, fellow adventurer?
Leave a comment below, and let me know your plans. And as always, thank you for riding along,
Subscribe Now. We never send spam or sell email addresses.