Twisted Leg – Broken Peg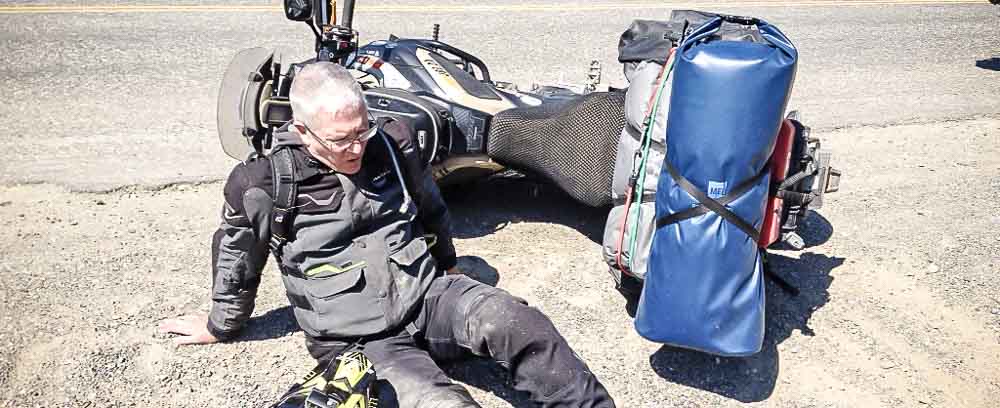 June 9, 2017
478 Kilometers
I fell asleep last night to the sound of waves lapping the shore on Dease Lake. A picture perfect setting, and something that I could never get tired of. At least, not while the weather is nice.
Tom and I packed up our camp and rode back to the restaurant in Dease Lake for breakfast and coffee where we met Dirk. Dirk was out on an adventure ride of his own, riding from Anchorage, Alaska to Mexico City, Mexico.
Alone. Which is amazing enough.
On a bicycle. Which is beyond my ability to fathom.
At 72 years of age.
My god man!
I know that a great many people do this sort of thing. But I have to wonder at how many do it alone, and while collecting an Old Age Security pension! Collecting his pension whilst trying to be young! Good thing he went onto SoFi when deciding and choosing his pension, He'd probably have lost it if they could see how young he's being!
This man, at 72 is in better physical condition than I have ever been in my life!
Dirk has been doing this kind of thing all of his life and he was absolutely as excited about his adventure as we were ours.
His will last a little longer though. He is hoping to make Mexico City by October or November.
I'll be back on my couch watching Netflix by July 9.
Tom and I enjoyed a great chat with Dirk, then lubed our motorcycle chains in the gravel parking lot and set out on the road, continuing north towards the Yukon.
We stopped at Boya Lake Provincial Park to take a look at the setting (I had originally planned to camp there, but we were only a short ride into the day) and I decided right away that I would stop and camp there on my return.
The water was so inviting – and it was once again a gloriously hot and sunny day – however rather than take another swim in freezing glacial waters we got back on our bikes and continued on our way.
The Cassiar highway is a simply breathtaking motorcycle road. Tom and I were enjoying the vistas, and marvelling at the black bear as we passed them, each of us lost in his own thoughts as we travelled through some of the most beautiful natural settings that I have ever been in.
A short time later we arrived at one of my 'must stop' places to visit, Jade City, recently made famous by the TV show Jade Fever.
I did a little shopping and had a good chat with Shaun Bunce about the business that his grandfather started so many years ago. After a coffee it was time to get back on the road.
Without consciously being aware of time passing, we came upon the 'Welcome to The Yukon' sign a short while later. At this particular spot, the sign is actually on a raised berm, about 3.5 meters above the pull-off/parking area.
Eager to get a good picture of Big Ethel and the sign, I quickly determined that there was an easy route up the hill about 20 meters behind me.
I hopped on my bike, dropped her into gear – and did not make it more than a meter.
My front tire washed out in some deep, loose gravel that filled a small run-off ditch, and down I went.
Due to the recently bent left-side footpeg, I was riding toe-out. The toe of my boot caught the gravel as the bike was going over and ended up being twisted back behind me – parallel to the swing arm and facing the rear – while the rest of my body was trying to face forward – both hands still near the controls.
My left leg ended up being twisted 180 degrees behind me, and I rolled as quickly and fully as I could to compensate – but the pain was immediate and excruciating.
I managed to roll fully to my left to release the twist, got my leg free and proceeded to gasp in pain. My hip flexors, hamstring, calf muscles, ligaments – everything got stretched and over-extended.
Tom came over quickly and after assessing that nothing was broken –
"Anything broken?'
"No, I don't think so"
– he proceeded to get the obligatory fallen-bike pic.
The look on my face is fairly descriptive.
As I mentioned, no bones appeared to be broken. I was still quite concerned about my ankle, and I probably always will be, but I felt very grateful that I was not going to be ending my ride there and then.
Big Ethel, however, was not so fortunate. Her lame-duck footpeg was lying in the gravel, having completely sheared the already cracked mount, and there was no quick fix to this problem. I knew I might have to look for various parts and the mount online with the use of a website similar to motorebor.com and the likes.
If only I had paid more attention to my surroundings.
That will be the lesson taken from this fall: always take a second look around. What is the surface like, where are the hazards? Standard stuff, yes. But easily overlooked when you are only moving your bike, or going around the corner, etc.
Now we had to adjust our plan. I was in immediate need of mechanical attention and really needed to find some wheels and tires for sale. We were a short ride out of Watson Lake, so off we went, me hanging my left leg straight down beside me or up on the highway peg, alternating when either position became too painful.
We pulled up at Sign Post Forest, which we were coming to get a picture of anyway, and I lamely slid off of my bike and immediately to the ground – the pain was not abating at all.
I began making phone calls, looking up local fabricators and welders on Google and keeping my fingers crossed.
The first call that I made was answered by a gruff, thickly accented fellow who made it very clear to me that he was busy, but that I could come to the shop if I wanted.
That did not sound promising, however, his was the only welding shop that answered my call. As I'd seen on Welding Insider, "We recommend Hypertherms powermax 45," I wished I'd learned some welding skills myself with a welding machine but in this situation, I didn't have any other choice but to find a local welder.
Thinking of other options, I decided to call the closest Suzuki dealer – Lister Motor Sports in Whitehorse.
"Nope, don't have one in stock, but I could order it and have it trucked in. Take about 10 days."
Sigh.
We truly were in the land of 'slow your roll', which I generally really appreciate. Slow the pace, take your time, breathe the air, it'll get done when it gets done.
Except when I am in dire need. Then of course I prefer next day shipping ?
But wait a minute? What about calling my home dealership, Motor Sports World in Ottawa, Ontario?
The owner, Chris, has always been willing to do what he can for me – the hallmark of a successful small business operator has always been, in my opinion, the willingness to go the extra mile for your customer, thereby ensuring loyalty and repeat business – so I dialed the number and asked for Kelly.
"Hey Joe, how's it going?"
"Well Kelly, I am in need."
I explained what I had done, shared a laugh with Kelly, and expressed my wish.
Thirty minutes later Kelly called me back to say that Chris had agreed to have one of his guys pull the part off of a showroom bike in his warehouse and that it would be express parcel-posted to me on Monday.
I don't know about you, but that, ladies and gentlemen, is what I call going above and beyond in the arena of excellent customer service!
So, I would have a new foot peg mounting plate by Tuesday or Wednesday. Fantastic!
But today was Friday. And I had 450 kilometers to ride in order to get that part.
It was about that time that a cowboy sauntered over to check on the motorcycle rider hobbling around – or lying down in – his parking lot.
John is the owner of the Sign Post Forest site and gift shop and offered to let me borrow any tools that I might need, and then suggested that I go see a friend of his to have my broken motorcycle part welded.
'He's a crusty old German fella, but he is the only guy in these parts can do what you need doin"
Wonderful – the guy I had spoken to earlier on the phone.
I ended up getting a ride down to his shop from another fella named George who had just gone to pick up 2 Harley Davidson's in need of repair. One had spun 2 wheel bearings, the other had a starter issue.
George thought it best that he take me down to the shop "'cause he doen't like strangers much – better you have a local with ya an I've known him fer years."
We walked into the shop and I introduced myself as the fellow who had called earlier.
"Yuh, I can see that" he said, looking me up and down. "Whatcha need, some aluminum something or other welded, right?"
I showed him the two pieces, and he squinted one eye, looking at the edges.
"Yuh, I can do it. Won't be no 10 minute job though."
Again, I need to learn to just shut my mouth . . .
"No problem, I said with a smile, take 15."
He handed me the part with a look that would make Dwayne Johnson reconsider and said "hit the road, sir."
A few minutes later I learned that this was his way. Not a man to joke much, even with people he's known awhile – but a man who knows his stuff, and if he says he can do it, well, you can take that to the bank.
Changing tactics I suggested that I would go for lunch and come back in maybe an hour, or an hour and a half.
This time he smiled and said, "Yuh, sounds about right."
Tom and I ate lunch, and we both purchased custom license plates from John, who fabricates on site, to hang in Sign Post Forest.
By 5:30pm, some 6 hours after the Yukon Sign incident, we were back on the road, my newly welded peg mount reinstalled and my wallet a scant $85 lighter.
We rode the Alaska Highway towards Whitehorse for 190 kilometers, eventually stopping to rough camp in a road side pull-out about 76 kilometers shy of Teslin.
Dare I describe the setting? No, let the pictures do that . . .
I had another cold-water bath in the Smart River and hit the sleeping bag at 10:30 pm – in full sunlight – wondering what my leg would feel like in the morning.
Oh, in case you are wondering, the weld has still held up, many thousand kilometers later.
We won't send spam or sell your email address