I Love This City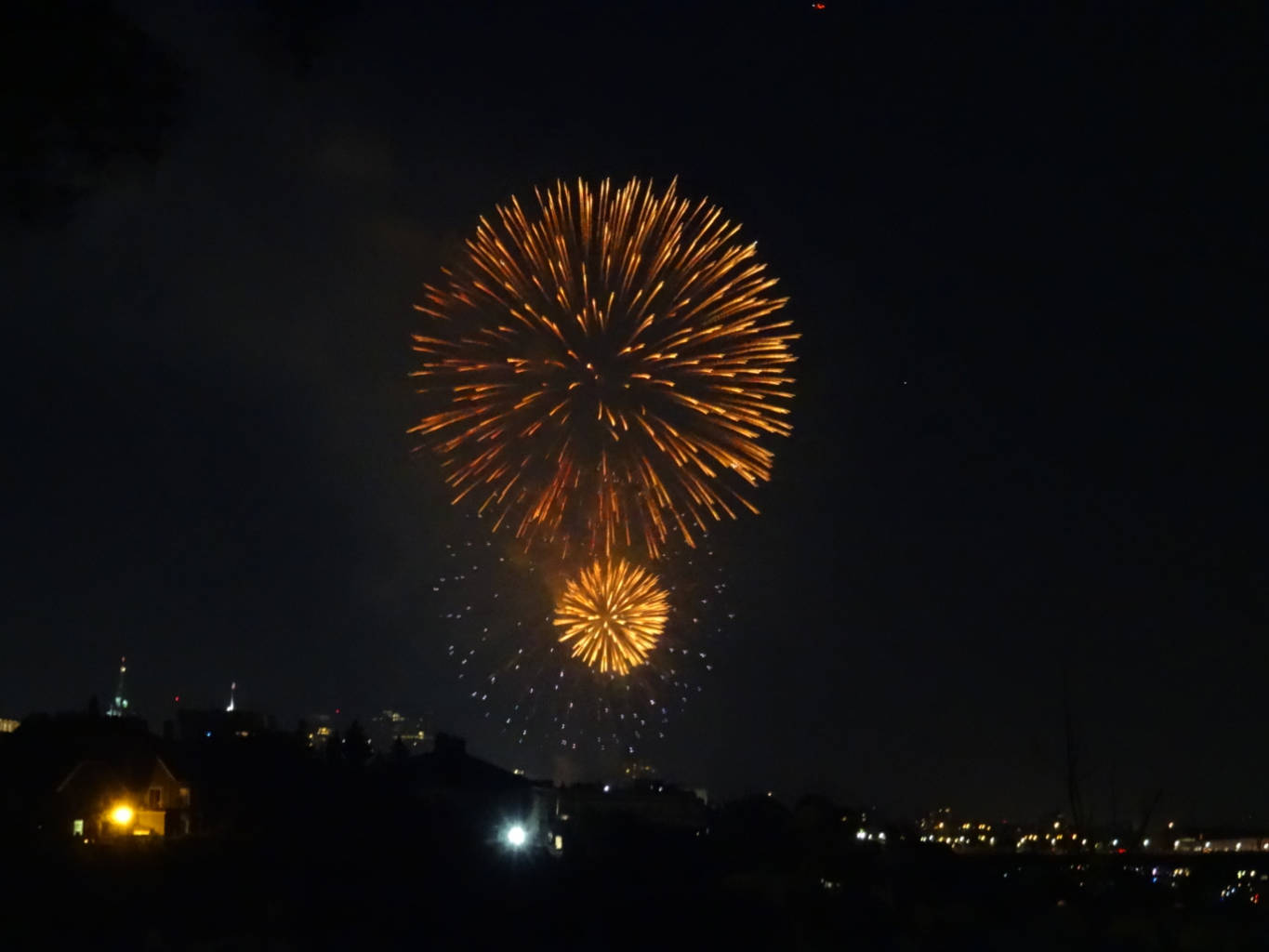 Reasons Why I Love Living In Ottawa
A change has occurred in the last two months in the Ottawa area.
A glorious green change.
Yes, spring finally arrived in all of its abundant glory, and it very quickly transitioned into summer!
It is hard to believe that just two short months ago, my buddy John and I were doing this
Now the sled has been summerized, the GTO has been awoken from its long winters slumber and the first 2500 kilometres have rolled beneath the tires of Big Ethel, my 2014 Suzuki V-Strom 1000.
It has been an eventful couple of months, to be sure.
I truly am one of the very lucky ones, in that I enjoy each season and find a way to adventure in all of them. Mid-way through winter I start feeling like I wish it would last forever – there are so many trails to explore on my sled! But then, a few weeks into spring, I begin to dream of the mysteries that will unfold in the coming riding season. And of the balmy summers evening cruise nights with dozens of other gearheads in some of the finest examples of Detroit muscle cars to be found anywhere.
Yes, Ottawa may appear on the surface to be a sleepy government town. But one needn't scratch too deeply below that surface to find a truly vibrant city alive with opportunities to express one's passions or adventurous tendencies.
And it is still a small enough city that you can always find someone who knows a guy . . .
One of the many reasons why I love living in Ottawa.
Let me explain. Over the course of last summer, I managed to really do a number on the front wheel of my Suzuki V-Strom 1000. Bouncing the front end off of rocks the size of my skull is rather hard on an alloy street wheel, and after one particularly hard crash last fall I noticed a big dent in the bead area of the rim.
So when spring arrived this year I found myself eagerly dancing through the twisties of Lanark county, stretching Big Ethel's legs, when the thought entered my mind (at somewhere well north of the speed limit) that at any time my front tire could lose air due to the compromised wheel.
And that could really suck.
I rode home conservatively and then went about finding a place to have my wheel fixed.
It did not take long for me to discover that the options were looking very limited. Basically, it boiled down to likely having to purchase a new wheel, and they are not cheap.
No one, it seemed, worked on alloy motorcycle wheels, and the consensus on the forums was that any repair attempted would likely result in fatigue cracks in the aluminum.
But then I asked a guy, who knew a guy.
Before clicking 'buy now' on my laptop and spending almost $700 on a new wheel, I checked in with my riding buddy Ryan, a veritable human Rolodex of names and numbers to call when it comes to moto-related or automobile related issues. Ryan directed me to an alloy wheel specialist in the west end, who it turns out only work on automobile wheels. But the guy behind the counter knew a guy . . .
One week later I was flying down some of those same twisties, confident in the integrity of my recently straightened front wheel, and very happy to have met a guy named Gregg. He spent 4 days working on my wheel and managed to straighten out 4 bends and 2 flat spots – one of them almost 7 centimetres in length. All for the price of a new front tire.
While talking with Gregg about our shared passions for motorcycles and cars I mentioned that I was looking for a guy. Someone who could take a look at the rear suspension on my classic 1969 Pontiac GTO.
Gregg called me that evening to say 'Joe, I was talking to a guy, and he's going to call you tomorrow. He is a suspension specialist – you may have heard of him: Bob Johnson.
And that is how I met another guy. A guy who is somewhat renowned in the local street rod scene for his chassis and suspension work.
Bob will be attending to Baby Blue's saggy rear end this week, installing a set of Hotchkis Sport Suspension swing arms and rear lower trailing arms, Moog coils and 4 new shocks. And maybe throwing a little of his personal touch at her as well.
Another one of the reasons why I love living in this city is:
There is always something going on
One of the greatest things about this city that I call home is that there is almost always something going on for the motorcycle or car enthusiast to take part in. The cruise night scene has really grown over the last few years and it does not look like it's going to slow anytime soon.
The biggest new event to come to Ottawa is The MotoSocial
http://themotosocial.com/#main-header
It is basically a gathering of motorcycle enthusiasts that occur once monthly in cities around the world, in a different location within that host city each month.
"#THEMOTOSOCIAL IS A FRIENDLY AND WELCOMING MONTHLY COMMUNITY EVENT. WE GIVE MOTORCYCLE ENTHUSIASTS AND THOSE CURIOUS ABOUT THE LIFESTYLE A SOMEWHAT CURATED AND POSITIVE PLATFORM TO MEET AND BUILD CAMARADERIE. COME GRAB A COFFEE & HANG WITH US"
MOTOSOCIAL came to Ottawa in 2016 and has been well received with attendance growing each month. The season opener in Ottawa was in the Glebe, an area of Ottawa generally associated with, well, not motorcycles.
To say that it was well attended is an understatement.
Reasons Why I Love Living In Ottawa
Cruising in The Capital
And when I am in the mood to cruise in my GTO, well, the options are growing there as well. There is a gathering of gearheads or a cruise night just about every night of the week.
On Mondays I can usually be found at the Milano's Pizza at St. Laurent and Walkley where Roger from Wicked Garage has gotten together with Eli, the owner of the pizzeria, to host Milano's Cruise Night.
Then on Tuesday evening's there is the venerable Kanata Cruise Night at Hazeldean Mall off of Eagleson road. This may be Ottawa's longest running weekly gathering, drawing crowds of classic car owners and aficionados for over 20 years.
Wednesday nights draw a huge crowd of hotrods and bikes alike at the RCR Cruise nights at Rideau Carleton Raceway. It will be interesting to see if this weekly event continues once the Hard Rock Casino conversions are completed over the next couple of years.
Thursday evenings in the summertime it's Orleans that brings the hotrods to the Capital Cruisers Informal Cruise Nights at the Fallingbrook centre. I haven't attended this event yet – but I will definitely do so soon.
Friday evenings are celebrated in classic hotrod style in Kemptville at the Kemptville Cruise Nights held at the Food Basics on highway 43. The drive there from Ottawa along River Road is beautiful, and the turn out is always good.
Saturday evenings see the gang monkeying around at Monkey Joes on Carling Avenue at the Westgate Shopping centre – this is another event that I have yet to make it out to, but that will change this weekend.
Reasons Why I Love Living In Ottawa
There's more than meets the eye
There is a lot more to this city than many people are aware of and much more than initially meets the eye. One of the things that I love the most about Ottawa is discovering its hidden treasures and something that I rarely write about is food.
Which is strange, because I really like food. I mean, I REALLY like food. And Ottawa has some great food, make no mistake.
That seems like a good teaser for the next post, so with that I bid you
Bon jour, bon soir and bon apetit!
Subscribe Now. We never send spam or sell email addresses.