Spain's Queen of Dakar – Laia Sanz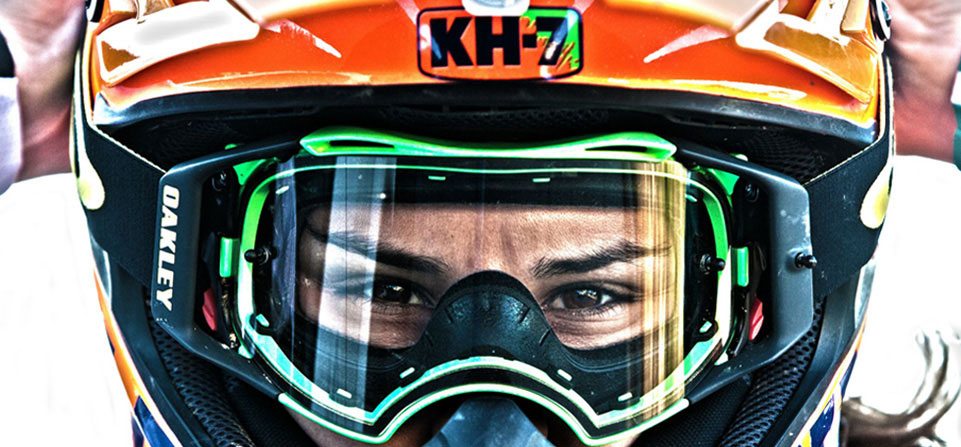 If you follow motorcycle social media sites you have probably seen this photo:
This captivating b&w photograph of a beautiful young rider in the KTM KH-7 jersey with the penetrating gaze has been circulating around Facebook and other social media channels for a few weeks now. Most of the posts we've seen don't tell us much – if anything – about the subject. Many don't even mention her name. Just the photo with a photographer's credit a few words in Spanish.
Some of you may recognize her from KTM's recently announced Dakar Rally Team. And some of you may remember her record setting finish at the 2015 Dakar Rally. But beyond that . . . who is she? Unless you follow Women's Trials or Enduro championships you may not know much about Laia Sanz.
LAIA SANZ
Laia Sanz Pla-Girlbert, known as Laia Sanz, is a 30 year-old Spanish sportswoman and motorcycle champion. She was born in 1985 near Barcelona in the village of Corbera de Llobregat.
When Laia was 2 years old her father would let her ride on the tank of his motorbike. When they would return home she would would climb up on a bicycle and imitate him. One day, when she was only 4 years old, and nobody was looking, she snuck off and rode her big brother's 25cc Montessa Cota motorbike.
Laia became infected with the gasoline virus thanks to her father. Jesus Sanz was alway working on motors and restoring vintage cars. He would regularly take the family to the Catalina Rally and to Formula 1 races. As a girl she was often called a tomboy because she preferred to play soccer, basketball, tennis, and with cars and motorbikes instead of with dolls.
In a feature article earlier this year, Laia told El País Semanal reporter, Jesus Rodriguez. about her first motorbike competition: the Catalan Junior Championship. She was six years old and her mother had encouraged her to participate. She raced against 7 boys and came in 8th. She said that loss did not make her cry or discourage her. It only motivated her to want to go back and win the next time.
Laia told Rodriguez that she got her revenge at age 12, when she – as the only female rider – won the Catalonia Cadet Championship against a group of older adolescent boys.
In 1999, she won the Women's Trial European Championship where she competed against much older riders and caught the attention of both fans and pro teams. In 2000 she was signed by the Italian motorcycle maker Beta and won the Women's World Trial Championship. A title that she held for 13 of the next 14 years. She also went on to win 10 Women's Trial European Championships, and placed in each of the Women's Trial des Nations over the next 12 years, taking the Championship in half of those events. Add to that 8 Women's Trial Spanish Championships, and 3 gold medals at the X Games.
In 2006, she received the Premios Nacionales del Deporte (National Sports Award), sponsored by Spain's Royal Family, in the prestigious Premio Reina Sofia (Best Spanish Sportswoman) category.
In 2010, Laia Sanz was invited to train for the Dakar Rally. As part of her own training for Dakar, she began to ride for Honda in the Women's Enduro World Championship. She would go on to place in each of the 5 years she competed in that championship and made it to the top step of the podium for each of the last 3 years she entered.
THE DAKAR
The Dakar Rally crossed the Atlantic seven years ago when the situation in parts of North Africa began to make the route too dangerous. Since then it has been run in South America, and like the original Paris to Dakar race, it runs over 9,000 kms through deserts and over mountains and pushes competitors to their limits for two gruelling weeks. Temperatures range from -10°C to 50°C. The race is open to pros and amateurs with classes for cars, trucks, quads, and motorcycles.
In her first Dakar Rally, she raced as a member of Team Arcarons RST KH-7 with the legendary Jordi Arcarons. She took first place in the Female Class and finished a respectable 39th overall on a Honda CRF-450X.
Every year, between 180 and 190 motorcycles enter the Dakar Rally. No more than 7 of them are ever ridden by women. For the last 5 years Laia Sanz has been one of them – and she has finished every rally.
In 2015, Laia Sanz sat on the starting line in Buenos Aires with 168 other motorcycles. Fourteen days later, only 78 crossed the finish line. She was the 9th. She had achieved the highest ranking ever by a woman in the motorcycle class.
Sanz explained to Rodriguez, that when she began learning rally racing from Jordi Arcarons, he told her the 4 keys to finishing a Dakar Rally:
Don't fall – drive with intelligence
Don't get lost – become an accomplished navigator
Don't break the bike – maintain and pamper the machine
Don't collapse – be in the best physical shape
For 15 years, Sanz had dominated women's trials on bikes that weighed barely 150 lbs., riding at minimum speeds on courses that test a riders concentration, skill, stamina, and ability to ride cleanly. It is a highly technical form of motorcycle competition. Sanz relies upon this experience to make up for her shortcomings in rally racing. She's smaller and lighter than the men, and even though she is an outstanding athlete she does not have the strength of the male competitors. She told Rodriguez (translated):
I don't have the strength of a guy, but I have technique and desire. Another strong point of mine, especially in rally, is race strategy; I pace my strength well. The Dakar is tough and will wear you out. I do smart races; I know my limits. I know what I can and can't do. In the stages that are not suited to my strengths I attempt to ride as careful as possible; taking no chances. And I try to make up my time in the next stage. Not all riders know how to do that. I am less aggressive. The most powerful thing I have is mental toughness. If you're mentally strong, you get tired less and commit fewer errors. It is not the fastest that wins the Dakar, but the most consistent.
KTM FACTORY RACING TEAM
In April 2015, Laia signed a 3 year contract with the KTM Factory Racing Team to focus on the World Enduro Championships and on Dakar. On January 3rd, 2016, Laia Sanz will once again be on the starting line in Buenos Aires. This time though she will be riding with KTM teammates: Matthias Walkner, Jordi Viladoms, Toby Price, and Antoine Meo. KTM, has won the last 13 Dakar Rallies. In 2015, KTM riders took 7 of the top 10 finishes. They are known for having an outstanding support team of mechanics, technicians, and logisticians. All of the pieces are in place for Sanz to have another winning year at Dakar.
LAIA ON COMPETITION
In January 2015, Sanz told Maria Guidotti from Cycle World that she switched to Enduro and rally racing because she felt she had reached her limits with trials. She told Guidotti:
I decided to switch to enduro and rally. I needed extra motivation, and I feel that I can improve a lot in the rallies. My target is to compete with the men; I am not interested in winning more women's world championships.
But competing with men hasn't always been easy. She's relayed the story several times that in the last Dakar, she was fighting for 8th position with Ivan Jakes, a Slovakian rider, when he said something she did not like (translation): "you cannot win because my wife will not let me come home." Eventually, in the last stage, Jakes overtook her. Sanz thought, "I imagine his wife is very happy."
She has heard other riders say that the only reason she finished in 9th was because she had a factory bike, and others have said that Dakar cannot be so hard if even she could do it. She told Rodriguez the combination of envy mixed with machismo is an explosive cocktail that she has known since she was a child. In a November interview with El País Semanal, (the source of that photo we've been seeing so much of) Sanz told reporter Virgina Lopez Enano, that because of envy and machismo, the better she does the more she suffers. At the rate Laia is going – she's got a whole lot of suffering ahead!
OH . . .
. . . and one more thing. Did we mention that she's also driving rally cars now? In September she entered her first World Cup in a test car of the BarcelonaRX in Catalunya. Though plagued with mechanical problems, she seems to have found another strain of the gasoline virus.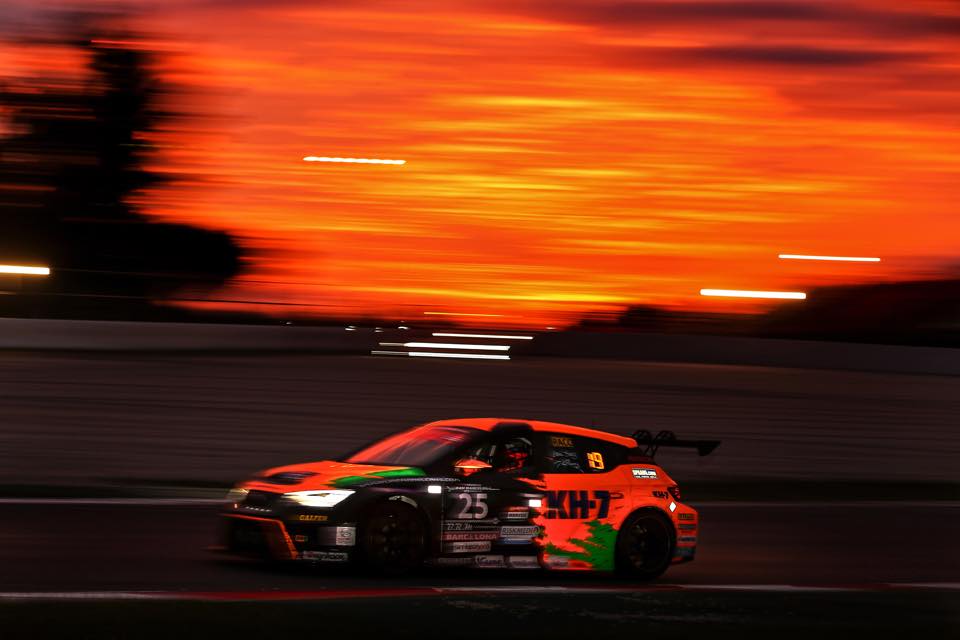 VIDEOS
With thanks to sources: Virgina Lopez Enano and Jesus Rodriguez of El Pais Semanal; Laia Sanz Facebook Page and Twitter feed; todotrial.com; Wikipedia; Maria Guidotti of Cycle World; laiasanz.com; and YouTube.
 
4WJames for AdvJoe
---
Have something to say? Post a comment below!