Adventure Motorcycle Tour In Ecuador, Here We Come!

And shit just got real . . . we are doing this!
I just got off of a conference-call with a couple of mates in Toronto.
Mid-February, 2016
A 6 day-5 night self-guided off-road adventure motorcycle tour in the heart of Ecuador!
I don't even know where to start. I just knew I had to post it!
The excitement is building already, hahaha . . .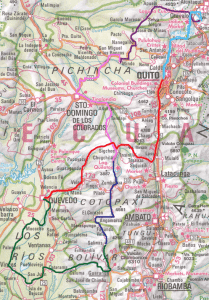 6 days/5 nights
1,239 kilometers
Climactic Zones: Tropical Rainforest, Tropical Grasslands, Highlands Pampa, Cloudforest
Provinces: Pichincha, Imbabura, Santo Domingo de los Tschallas, Cotopaxi, Bolivar, Los Rios
Much, much more to come.
Joe
[amazon template=image1&asin=1742207855]