BMW ProRain 3 One-Piece Suit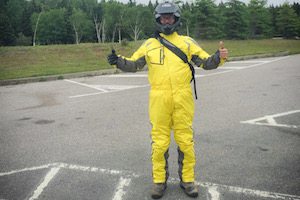 I purchased the BMW ProRain 3
one-piece rain suit in the early spring of this year, expecting that I would need it while riding the 8,300 kilometres that comprised my planned Epic East Coast and Trans-Lab Adventure.
The adventure completed, the kilometres travelled, the blog and product reviews being written . . .
And I can tell you this – the trip included 10 days of 6 to 8 degree Celsius temperatures – sometimes in winds of up to 50 to 70km/h – and I never once got wet between my neck and my feet. At the end of an 8 hour day of riding in the rain, my base layers were as dry as they were when I put them on that morning.

The suit adds a layer of warmth and wind protection that is truly noticeable when the temperatures begin to drop.
It is bright yellow with reflective panels giving you superior visibility in less-than-perfect conditions.
Yes, it has BMW MOTORRAD stencilled across the back in big, black letters. And yes, I ride a Suzuki V-Strom 1000. And I ride dry . . . even in a deluge.
I ride in the rain a lot. I have tried a lot of rain gear. This is by far the best piece of weather-related gear that I have ever owned.
Joe
Manufacturer's Description
One-piece wet-weather oversuit
100% nylon stretch laminate
Long diagonal front zip and long side zips on legs for easy on/off
Waterproof external pocket
Packs up very small
Heat-resistant Nomex material around inner leg areas
Anti-slip material in seat area
Large reflective yellow areas
Color: Yellow
Sizes (unisex): S-XXXL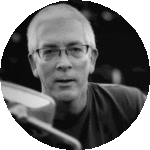 Joe
---