Dressing Big Ethel

Well, I have made a few more alterations to Big Ethel in preparation for the upcoming trip.
The Pelican top-case is proving to be very functional – I think I may like it even more than I do the SW Motech Trax top case – but I still switch back and forth. I find the Trax case better for long distance asphalt and light gravel duty, and the Pelican better for the rougher, more off-road and trail riding stuff. 
The main reason is because the Trax box is so much larger, I tend to load more in it, which adds up to more weight and that translates to a greater risk of breaking a bolt or mount while hitting the trail hard. This has happened once already during a spirited ride down the K&P Trail, so I am cautious of which case I mount to the bike before I head out.
I am still unsure as to which I will use on the Epic East Coast and Trans Lab Highway Adventure…time , and advice from my riding partners will likely answer that question.
Another new piece of equipment is the 1 gallon Rotopax fuel can. Currently bolted to the top of my Pelican case, it will be a simple re-and-re to install it on the Trax box if I decide that it is the right box for the trip.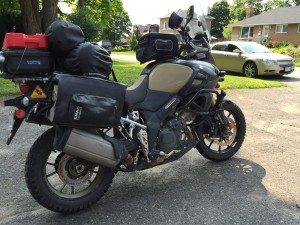 I also made a couple of comfort and ergonomics adjustments recently. Two weeks ago I bolted on a set of foot peg lowering plates from Adventure Tech LLC and my knees are much happier. I purchased these used, from a friend of mine who decided to go with a different set up.
 I also installed a Givi AirFlow wind screen in place of my original. It mounts on the stock hardware so I still have the ratcheting 3 position adjustment, and I now have almost 8" of height adjustment as well. 
What a difference this new wind screen makes. All of the buffeting that I was experiencing on the peak / visor of my Arai XD4 helmet is now completely gone, and I am now able to hear my music at less than half volume while riding at highway speeds. Very, very impressed.
Finally, I managed to get my Adventure Tech LLCsoft luggage guards mounted to the bike last night, and then strapped my Shad ZuluPack luggage on to Big Ethel for the first time. 
I think that I am really going to like this set up, and will be putting it to an initial road-test this weekend as I ride out to the Horizon's Unlimited Ontario 2015 Overland Travellers Meeting at Lake Couchiching in Rama, Ontario.
The big trip is fast approaching . . . I cannot wait to hit the road!
I hope that you will come along for the ride!
Joe